How to Mix and Match Host/Hostess Chairs and Dining Chairs
Do you love that oh-so-casual-yet-elegant look of mixing and matching dining room chairs but wonder how to do it? Simply throwing a bunch of chairs around the table doesn't seem to really give you the right effect. You can't just use any chairs and expect to have a pleasing dining room design. Although this look seems like it breaks all the rules, there are some guidelines to keep in mind to make it work.
Guidelines for Mixing and Matching Dining Room Chairs
No matter how you choose to mix and match your dining room seating, one thing to always keep in mind is seat height. This is key since you don't want some guests to site lower or higher than everyone else.
Most seats are 18" high, although they can range from 16"-18"

Upholstered and padded seats may be as high as 20" since people will sink down when they sit

Keep approximately 12" between the seat and the table so that your guests have enough legroom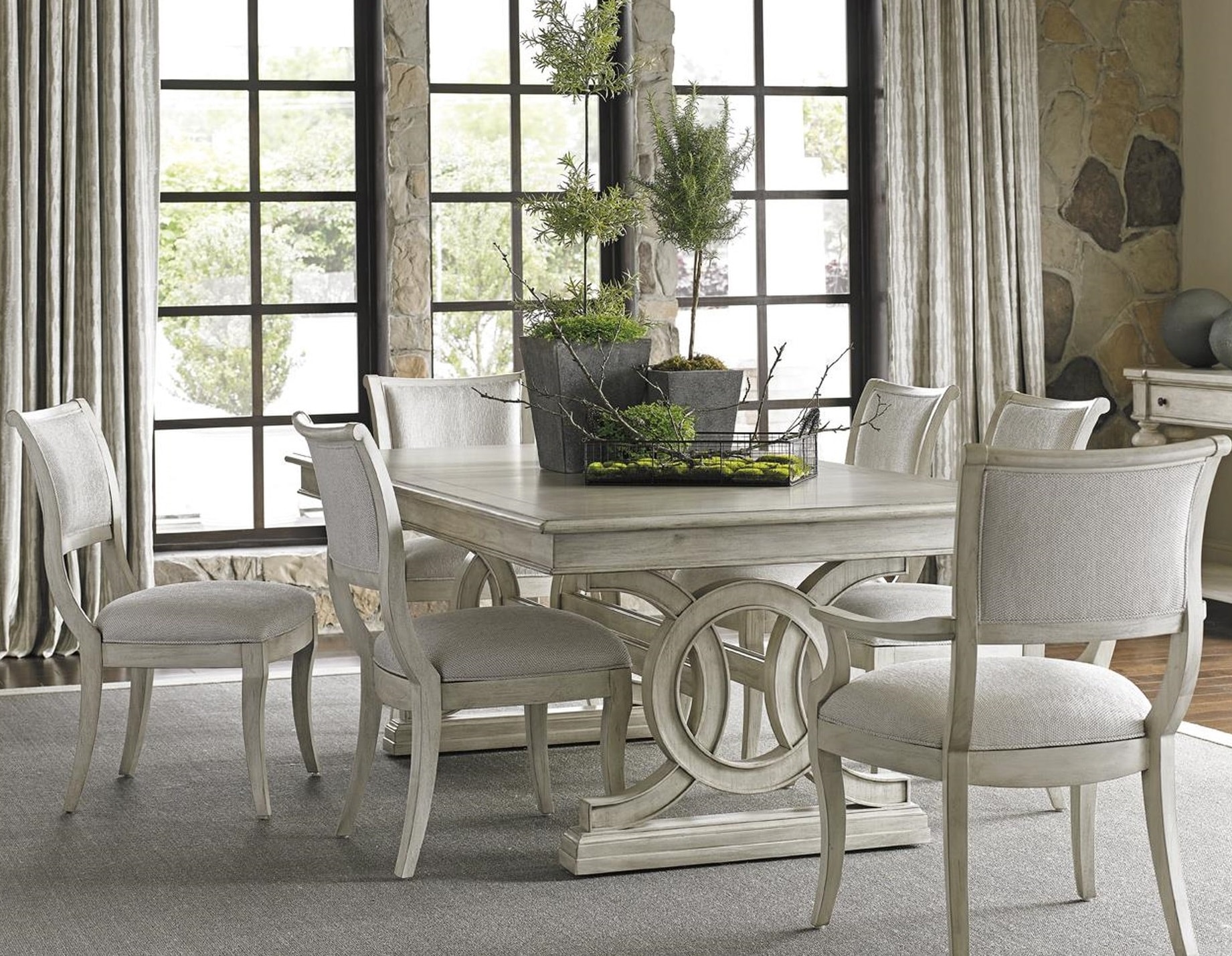 Change Just the Head Chairs
Since the head chairs or host/hostess chairs are traditionally slightly different than the side chairs, this is the easiest way to approach mixing and matching dining chairs. Host/hostess chairs generally have more details, such as a taller back, armrests, and more decorative details. Changing these chairs out for a chair that is entirely different is a great way to refresh a traditional design.
By keeping it in the same collection, you know the fabric and finishes will go together. Color is very noticeable on a chair, so keeping the color palette uniform lets you mix and match a few styles of chairs.
Mismatched Chairs with Common Upholstery
Another great way to mix and match chairs is to choose chairs of different styles with a similar wood tone and the same upholstery. As long as the chairs meet the height guidelines above, you can choose a bold color or vibrant print with custom upholstery to get the exact look you want. By doing this, the chairs you choose will mix and match well together and show off your style.
Choose one or two styles for side chairs and create a pattern by alternating them, and add upholstered armchairs at the head for a beautiful, balanced look that is anything but ordinary.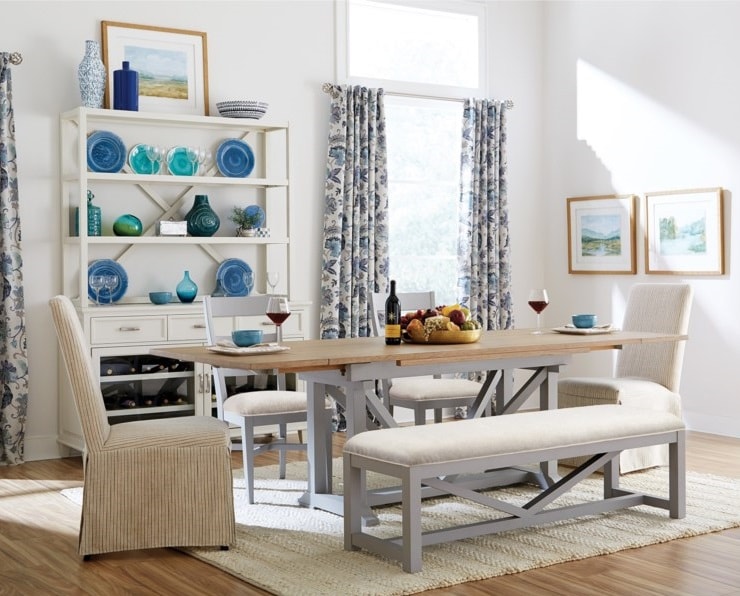 Mix in a Bench
Dining benches are gaining in popularity, and when you mix them with upholstered dining chairs, they bring a casual but not too casual charm to the dining room. This look depends on continuity of finishes and upholstery to look put together.
Opposites Attract
If you want a more eclectic look, pair style opposites such as:
But be sure to keep at least one element in common so that the look seems intentional.
Additional Tips on Mixing and Matching Dining Chairs
Once you begin mixing and matching dining chairs, the sky's the limit. Now that you've seen some of the possibilities, it's time to play with this in your own space. Here's a quick cheat sheet to keep you on track.
Choose chairs that look intentionally different but cohesive.

Choose head chairs that are the same height or taller than the side chairs. Shorter side chairs will look wrong.

Experiment with mixing colors to add contrast.

Although head chairs traditionally have arms, you can break this rule if you wish.

A heavier chair paired with a light and airy one will balance the space.
Keep in mind that these examples and guidelines are here to help you create a beautiful, balanced, pleasing look. Mixing and matching dining room chairs is an art, so as with any home decorating project, you can bend the rules to get the look you want.
If you are interested in mixing and matching your dining room chairs and want to see some great ways to do it, visit the Baer's Furniture store near you and speak with one of our in-house design professionals about a free design consultation.