How to Design for Ergonomics in Your Home Office
Whether designing your home office or upgrading the furniture in your onsite office location, establishing strong ergonomics can help you stay focused, maintain productivity, enhance your comfort, and prevent occupational injuries.
Fortunately, you don't have to sacrifice your comfort and health for an attractive and efficient workplace. The design experts at Baer's Furniture can show you how to create an ergonomically sound and luxurious work environment that you'll love to spend time in.
Set Your Workstation at the Proper Height
Decades ago, the proper height of the desk was set at the optimal zone for writing or typing. However, the keyboard and monitor are the most dominant features of a modern workstation.
With this in mind, the ideal eye level is two to three inches below the top of your monitor.
How to Set Your Monitor Height
There are two interactive components to a computer: the monitor(s) and the keyboard.
Your keyboard should be level with your elbows without a bend in the wrists being necessary. The length of your arms determines the distance. You shouldn't have to reach or extend your elbows to type comfortably.
If you are on a laptop, you may find it difficult to establish the proper workstation with your eyes at a height just below the top of your monitor. You may be able to remedy this issue by either purchasing a separate monitor or a separate keyboard and mouse. Either of these options will allow you to adjust your equipment to satisfy your ergonomic needs. Otherwise, you could find yourself hunching over your laptop to type and view your monitor.
You can achieve the proper desk height by using an adjustable office chair and setting the height to meet the standards above. If you prefer to stand part of your time at the office, you can opt for an adjustable desk, like the Boca white-finish adjustable power desk by Parker House seen below.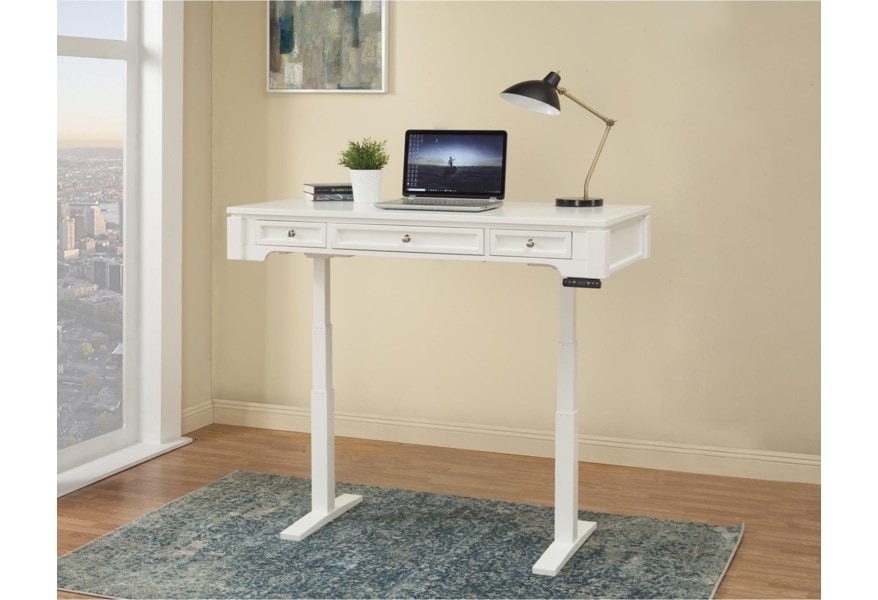 Choosing the Right Seat
You don't need your back to be ramrod straight at 90 degrees to the floor, but to avoid developing a slouching posture, you need a chair that offers you the proper support. Your chair should recline slightly at 100 to 110 degrees — slightly away from the desk. Because you'll be sitting in the chair for large portions of your workday, your chair must be also comfortable without sacrificing the support you need.
Keep in mind the chair won't be able to do all of the work for your body. You'll have to train yourself to maintain proper posture and allow your body to use the back support it offers.
Unless you have an adjustable desk or you've found a desk/chair combination that is the perfect height for you, opt for an adjustable chair. You can match nearly any decorative style with an adjustable chair, like the way the Hooker Furniture Executive Swivel Chair can fit in nearly any traditional setting.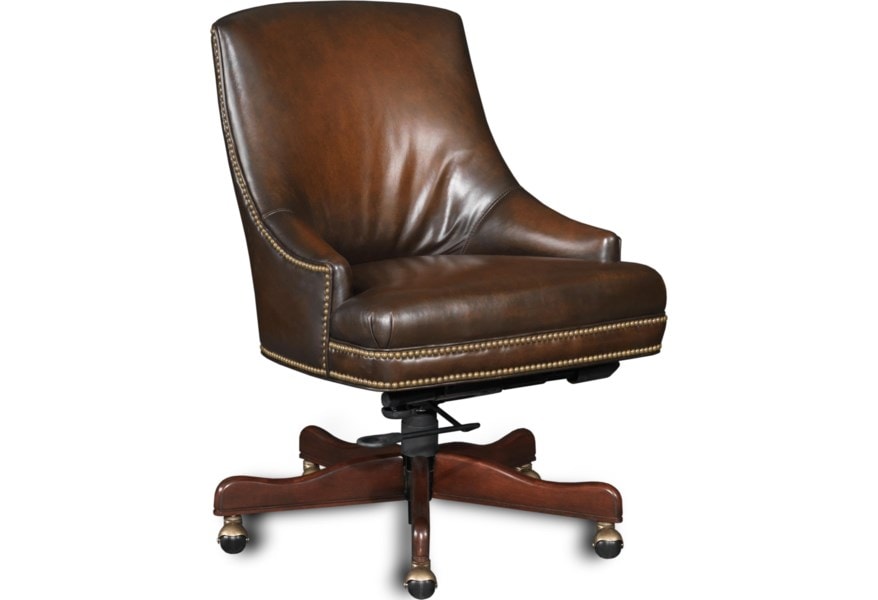 Keep Your Feet Flat
When you're sitting at your desk, your knees should be either level with your hips or just below them. Your feet should also rest flat on the ground. If you have a higher desk and you've moved your chair up to accommodate the other ergonomic considerations, you can place a footrest at the base of your office chair so your feet can rest flat. Don't allow your feet to dangle freely or to touch the ground with your toes. If you are touching the ground but your knees are angled upward, you may need to increase the height of your seat.
Tips for Buying Ergonomically Sound Office Furniture
If you're purchasing home office furniture, use these tips from the Baer's Furniture team to help you buy with confidence.
Match the Chair and Desk – You not only want your chair and desk to look amazing together, but you also want to make sure they fit each other and your body. Sit in the chair to see how it feels, and if possible, pull it up to the desk.

Invest in Foot Rests and Monitor Shelves – You can bring the monitor up to your eyes with a desktop monitor shelf. You can support your feet with a footrest.

Buy Attractive Furniture – You're going to be spending a lot of time working in your office. Purchase furniture that not only makes you feel comfortable but is also pleasing to the eye... and the webcam.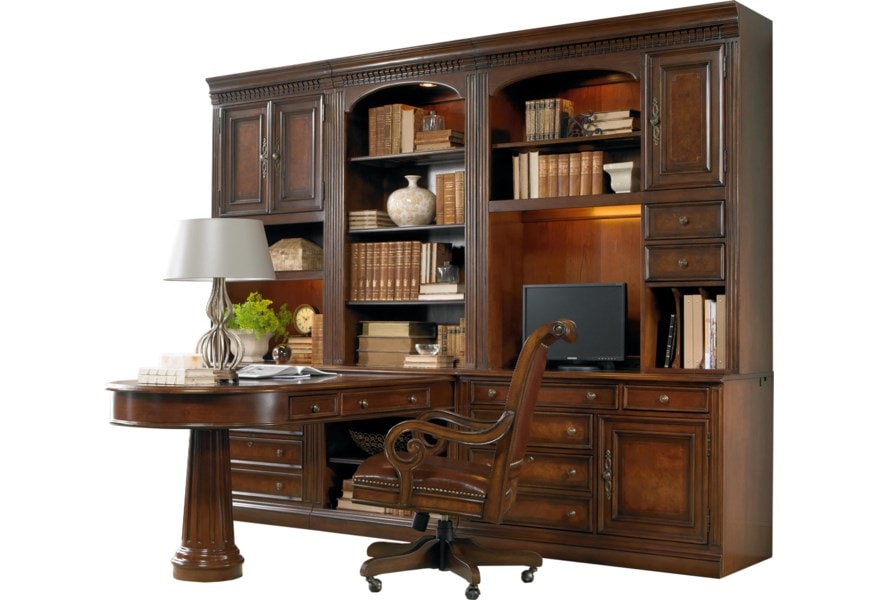 Baer's Furniture has many exclusive furniture pieces that you can use to build an ergonomically sound and aesthetically pleasing office. Shop Baer's today!