Features of Stressless Furniture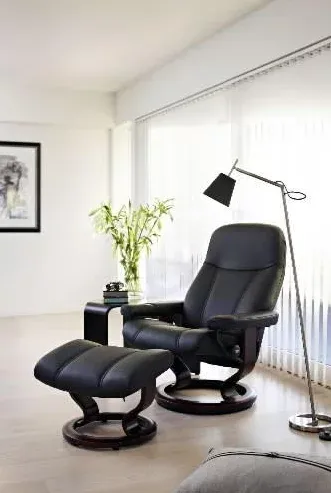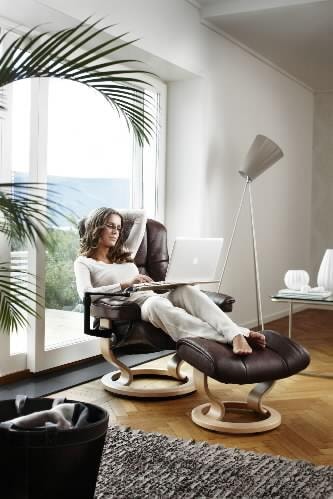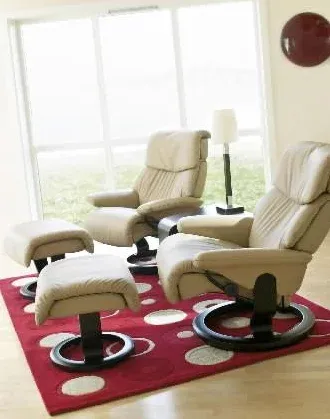 Stressless® Recliners by Ekornes may very well be the ultimate progression of the storied recliner chair.
While these leather chairs and ottomans are the ultimate in modern beauty, the luxurious Scandinavian chairs offer many hidden benefits that go well beyond the aesthetic. As an authorized Stressless® retailer, Baer's Furniture can help outfit your home with the ergonomic perfection of these prized furniture pieces.
The History of Ekornes and Stressless® Furniture
Initially, Ekornes produced mattresses and box springs, but in 1971, the Scandinavian company secured a patent for what would eventually become known as the Stressless® Chair. After decades of selling millions of chairs to the world, in 1996, the Norwegian company began making their popular chairs available in two or three sizes, depending on the model, to accommodate varying body types. In 2003, the Stressless® Chair was endorsed by the American Chiropractic Association due to its advanced ergonomic benefits.
Today, select retailers, like Baer's Furniture, are able to offer this back-saving technology, allowing their customers to purchase beautifully-designed furniture that also promotes lumbar health.
What Distinguishes Stressless® Chairs and Ottomans?
There's a reason why the Stressless® brand has become synonymous with superior ergonomics. These are the features that you'll find in their products.
Stressless® Uses the Plus™ System
The Plus™ System is a unique innovation that allows the head support to move when the chair reclines or inclines. With most seats, the headrest moves with the back. In Stressless® chairs, the headrest stays with the head, so when you move or adjust your body, your eyes stay focused on your television or reading materials, and your head remains supported.
Innovative Lumbar Support Technology
Many chairs offer lumbar support, but few adjust automatically as the chair reclines. With Stressless® chairs, the chair smoothly responds when you lean back, but the lumbar support also moves to support your lower back continuously.
The Stressless® Glide System
With the Glide System, each chair is equipped with dual tension knobs. Once you set these knobs, your chair is set for your body weight and desired tension. This allows you to recline in your seat with minimum effort and zero strain on the back. Stressless® ottomans also have the Glide System, and the resting surface of your ottoman will tilt with your legs to offer maximum support and comfort.
Superior Construction
Stressless® chairs have a perforated foam core that's contoured to a steel frame. This is covered with a polyurethane foam pad that allows you to sink deeply into the chair and for the seat and back to adjust to your body. A concealed swivel ring permits the chair to turn 360 degrees. The two-stem base provides additional stability.
Top-Quality Leather Upholstery
Choose from four different types of leather upholsteries in a wide array of colors. All Stressless® chairs have soft leather upholstery that feels amazing against the skin. Additionally, the wooden bases for both the chairs and ottomans are available in different shades.
How to Choose a Stressless® Chair
In order to maximize the benefits of owning a Stressless® chair, we recommend that you follow these steps. A Baer's Furniture representative can help you with the various options.
Go to a Showroom to Test the Chair – Stressless® chairs come in different sizes. Sitting in one is the best way to ensure you are getting the right size for you.

Choose a Color – You'll want your new Stressless® chair and ottoman to fit in with the décor of your home. Choose the color for your leather and for the bases.

Select Your Leather – Stressless® chairs come in four different types of leather. Pick the one that suits your needs.

Wait for Your Delivery – If you order your Stressless® chair at Baer's, you will receive white-glove delivery service. You'll just need to tell us which room you want us to set it up in. No assembly required.
Stressless® at Baer's Furniture
As one of the exclusive authorized Stressless® retailers, we are ecstatic to be bringing this revolutionary product to our valued customers. Stop in at your local Baer's Furniture showroom and ask a sales representative to show you our Stressless® chair and ottoman inventory today!