Upsizing to a Larger Home? What to Do with All That Space
Now that you've moved into your big, new home, what's next? If you find that your old furniture seems dwarfed in your new space, or the rooms seem large, empty, and cold, even though after you've added your furniture, you may begin to wonder what you've gotten yourself into. And when you don't feel at home in your home, it can be hard to live in the place that should make you feel the most comfortable.
Big rooms present a whole new set of challenges. They often feel cold and forbidding because everything in them is spaced out and distant from each other. The definition of coziness is close together and small, but you can't just crowd all the furniture together and hope that helps.
Big homes often feel lifeless rather than livable because there is too much unfilled space. The best way to make a large room feel warmer and homier is to make better use of the space.
However, making a large home feel more comfortable isn't impossible. Here are some ways you can fill your space with not just furniture but with personality and style.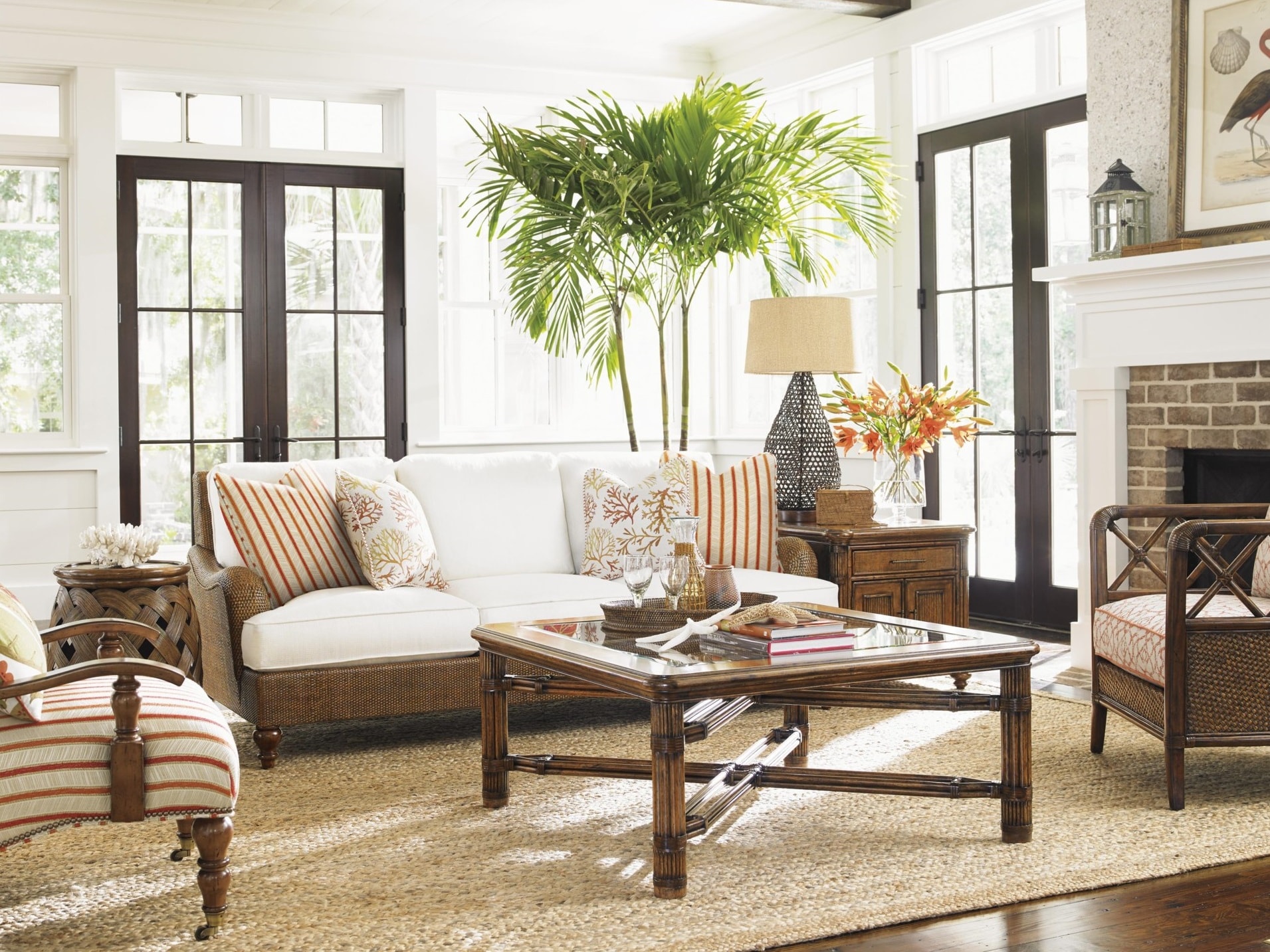 Strategically Arrange Your Furniture
When arranging the furniture, don't leave too much space between the pieces in each part of the room. Too much space will make it feel uncomfortable and sparse. It can also make people feel like they need to shout across the room at each other to have a conversation. Place sofas and chairs about 18 inches apart.
Section off Areas in the Room
It is difficult to use a large space for one purpose, so we recommend creating areas that let you use it in several ways. Create sections that are smaller and more intimate, as opposed to one huge space. For example, you can have a reading nook, office space, TV, and hang-out area in a large living room.
Section off these spaces using furniture, area rugs, and lighting. To make these spaces seem even more intimate, you can use a screen to separate them from the rest of the room. Just make sure that the design is cohesive throughout every section. While these areas serve different purposes, they are still in the same room.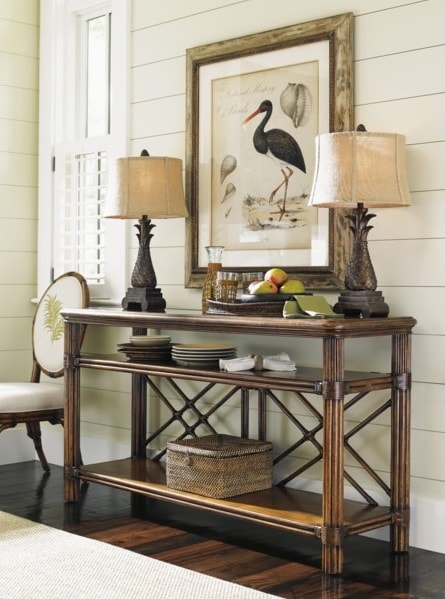 Fill Dead Space Rather Than Let It Go Bare
In a large room, it is generally best to pull the furniture away from the walls, making intimate arrangements toward the center of the area. However, this can leave a lot of dead, bare wall space. Don't let this space go to waste.
In a large room, it is nearly always best to pull the furniture off the walls, creating cozy arrangements closer to the center of the area. The trouble is, this can leave a great deal of wall space bare — don't let it go to waste!
One foolproof way to beautifully fill this space is a console table placed against the wall with exciting artwork hung above. The airy latticework on the Tommy Bahama Home Bali Hai Islander Console keeps this look light while offering practical open storage for essential items.
Consider Your Paint Colors
Paint color also affects the look and feel of a room. If the ceilings are especially high, two-tone walls can create an intimate feeling by tricking the eye into thinking that the ceilings are lower than they really are. Another option is to paint the ceiling darker than the walls, even if just slightly lighter or darker. This makes the room seem cozier.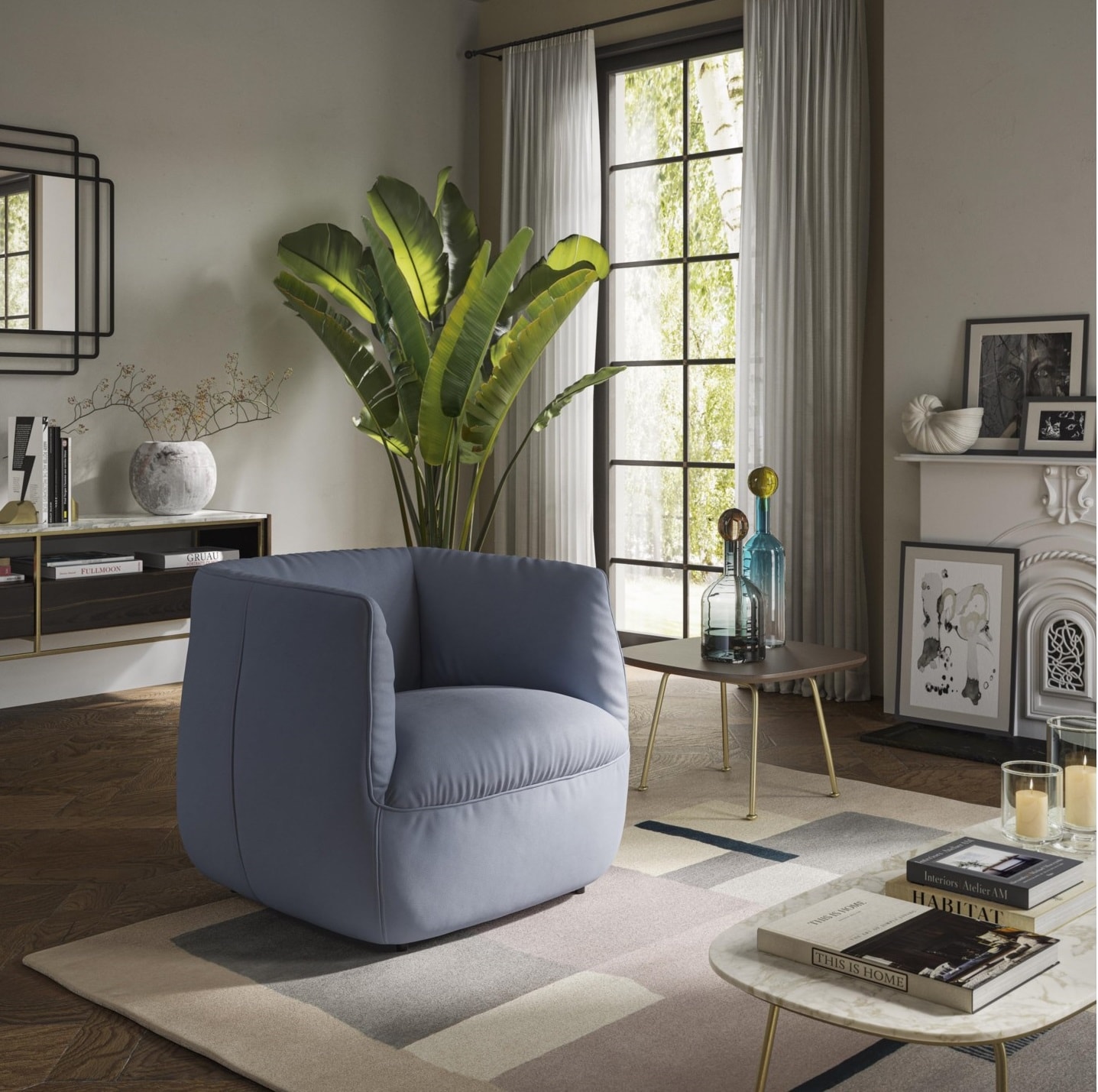 Use Curtains
Window treatments and curtains soften the hardscapes that walls and windows can make. They make a room seem warmer, private, and intimate. Curtains also fill negative vertical space and can mute the bright outdoor light when needed. Although natural light is never bad, it's nice to soften it to provide a calm, intimate setting.
Illuminate Rooms with Warm Lighting
Bright lights can seem sterile and make you feel like you're under a spotlight. Use warm lighting to feel comfortable and cozy. Warm lighting enhances relaxation and is more soothing than cool lighting.
Make Your House Feel Like Home
A house feels like your home when you surround yourself with things you love. Put the finishing touches on the space by incorporating favorite items you've collected over the years, hang photographs of your family and friends, or a piece of artwork that speaks to you.
If you need help putting these ideas together, visit the Baer's Furniture store near you and speak with one of our in-house design professionals. They'll be happy to show you around and help you find the perfect pieces for your home.