Timeless Wood Furniture for Every Style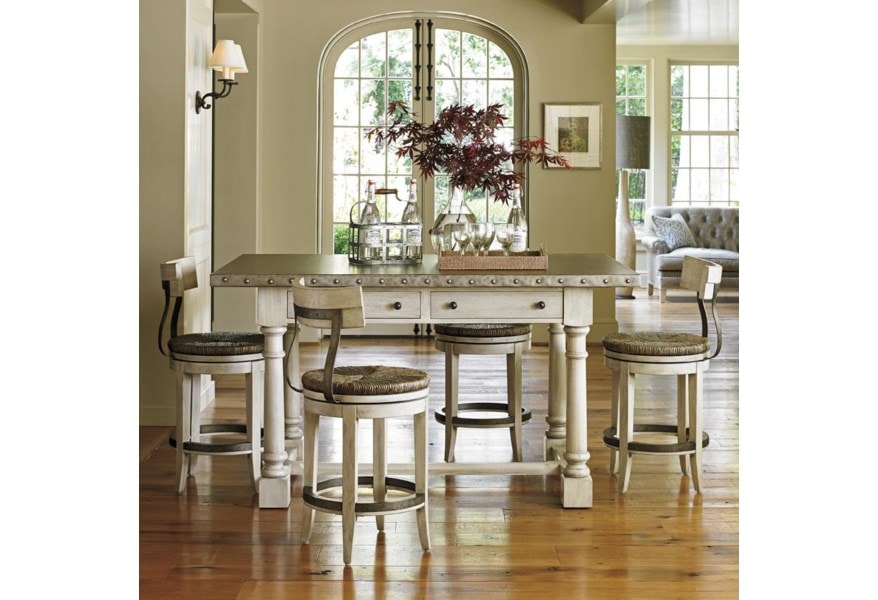 There are elements of furniture that will never go out of style, and wood is one of the most timeless of these materials. Wood can be incorporated into any design style, and the Baer's Furniture interior designers are going to show you how.
Know Your Wood Furniture Vocabulary
Before you set out on a quest for the perfect wood dining room table or bed frame, it's to your benefit to learn a few things about the woods commonly used in furniture.
Hardwoods
Hardwoods typically include oak, maple, mahogany, cherry, walnut, and poplar. Because of the density and durability of the wood, hardwoods can be used for nearly any type of furniture, but are the preferred woods for more active surfaces, like desktops, tabletops, and chairs.
Softwoods
Softwoods include pine, spruce, redwood, hemlock, and cedar. Because these woods are more susceptible to scratches and dings, you'll find softwoods on surfaces that aren't expected to have as much contact. For instance, bedframes, hutches, bureaus, and dressers often incorporate softwoods.
Heartwood vs. Sapwood
Heartwood comes from the center of the tree, whereas sapwood comes from the outer rings.
Heartwood tends to be darker and denser than sapwood. As is the case with hardwoods, heartwood is the "wood of choice" for pieces that require significant durability — tables, chairs, flooring, etc.
Sapwood is a softer wood. It's sometimes used in furniture to provide contrast to the darker color of heartwood. While sapwood can scratch easier, it can be used for the inside of drawers or as the base wood for a veneer.
Growth Rings
This is where the striated patterns in wood furniture come from. Because wood is not usually cut as a cross-section of the tree, you won't commonly see entire growth rings. Depending on the angle at which the tree is cut and the age of the tree, there may be several different growth-ring patterns in a single piece of furniture.
Wood Grain
Wood grain is not the same as growth ring markings. The grain of the wood is the direction in which the fibers run. You can usually see the direction of the wood grain with the naked eye or with a magnifying glass.
Color
Most woods are stained, but that doesn't mean the type of wood you choose won't affect the color. Staining allows a range of colors to be available for each type of wood, but the underlying tones of the type of wood will affect the final hue of the piece.
Wood Veneers Are Necessary
Contrary to common belief, a wood veneer does not necessarily indicate a cheaper, modern process that will compromise the durability of a piece of furniture.
What is a Wood Veneer?
A wood veneer is a thin coat of wood covering a core of solid wood, and it's absolutely necessary for the long-term wellbeing of some pieces. Wood veneering is a traditional technique that was developed at least two centuries ago. The reason that many furniture masters use veneers is a matter of practicality.
Solid wood expands and contracts with temperatures. If the furniture wood is a stationary, single piece, like a table or kitchen chair, it will expand and contract as a unit, and heat shouldn't corrupt the integrity of the furniture. With this type of furniture, a veneer isn't necessary.
On the other hand, moving parts may stick or rub against each other, which may eventually cause drawers to stick or hinged doors from evenly sealing with the rest of the cabinet. For these types of pieces, the veneer protects the base wood from heat and moisture, making it less susceptible to expansion, sticking, and warping.
Wood Furniture for Different Design Trends and Styles
While it's almost impossible to create a traditional, rustic, farmhouse, or even Cottage Core theme without wide swaths of beautiful exposed wood, some designers feel it's necessary to relegate wood to the frames of sofas and chairs.
Wood in Minimalist Design
Wood is still a dominant player in minimalist design. For instance, notice the way the Milo Dining Table from the Bernhard Loft – Highland Park Collection adds color and texture to the soft, muted tones and shapes of this dining room set.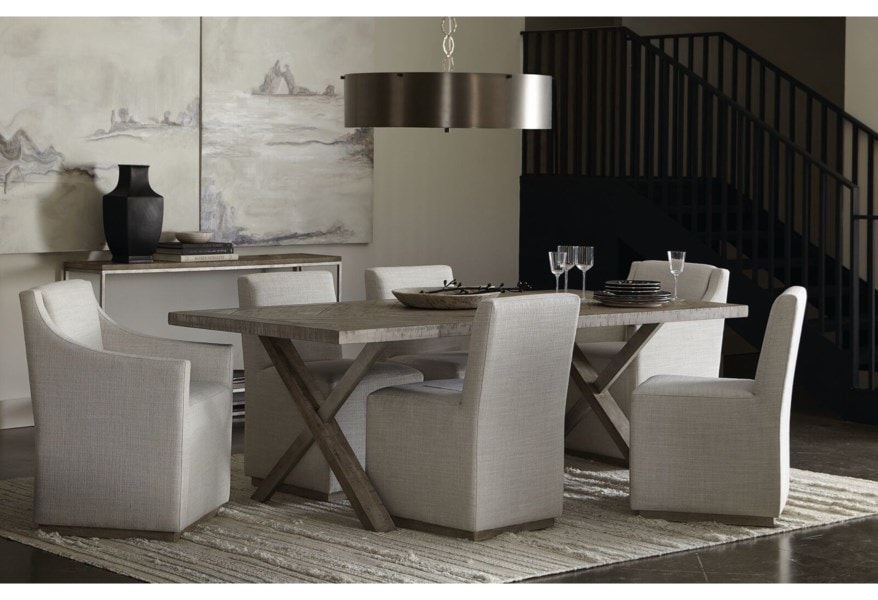 Wood in a Coastal Setting
Coastal themes don't have to be limited to beachwood. You can incorporate high-quality wooden furniture into your oceanic setting. Note how well the wooden bedframe of the Paradise Point Bed and matching nightstand from the Tommy Bahama Home Ocean Club Collection complements the design elements of this gorgeous waterside location.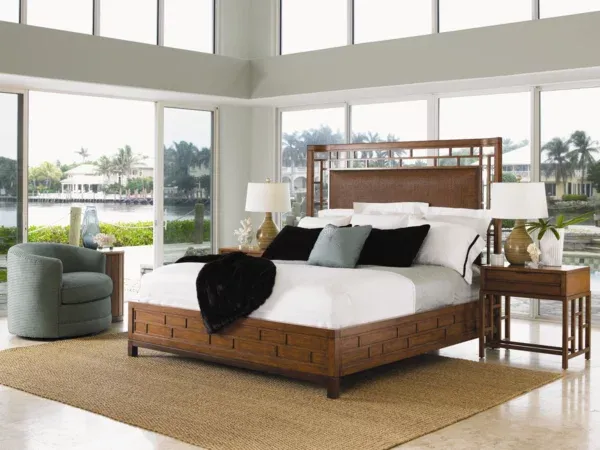 Midcentury Modern
Wooden elements may not immediately come to mind when you think of midcentury modern furniture, but the fact of the matter is that true midcentury décor intermixed woods like teak, oak, ash, beech, mahogany, and more with their soft, colorful fabrics and intricate wall sculptures.
Incorporating Wood Into Your Home
We recognize that for some interiors, you may not want to overwhelm your space with enormous spans of exposed wood, but a single wood piece or wooden accents on furniture made mostly from other materials can add sophistication and elegance to any decorative style.
To learn more about high-quality wood furniture, stop into a Baer's Furniture showroom near you and ask an associate about some of our luxurious floor samples.