What is Cottage Grove Style Furniture?
Over the past few years, many professional and amateur interior decorators have embraced the warm, romantic Cottage Core style. They have filled their homes with an aesthetic that puts one in the mind of the simpler times of past eras.
Cottage Grove is the newest and increasingly popular variant of this trend. Cottage Grove combines the simple sweetness of Cottage Core with the lighter, airier feel of rustic and coastal designs.
Collections like Ocean Breeze by Tommy Bahama Home, Oyster Bay by Lexington, Harbortown by Stillwater, and many more can provide the individual pieces and collections you need to create your ideal Cottage Grove living space — and they can all be found at Baer's Furniture.
The Inspiration Behind Cottage Grove
As was the case with Cottage Core, Cottage Grove is a decorating style that promotes escapism from the modern high-tech world. While Cottage Grove spaces may have essential technological devices — for instance, a microwave in a kitchen — these items are de-emphasized.
Cottage Grove features lighter colors, pastels, and muted tones. Where Cottage Core might have been quaint and comfy, but sometimes on the darker side — like the cottages in a Grimm's fairytale — Cottage Grove is light and airy but still maintains the ever-present coziness of Cottage Core. This Harbortown king-sized white panel bed by Stillwater is an excellent example of Cottage Grove décor.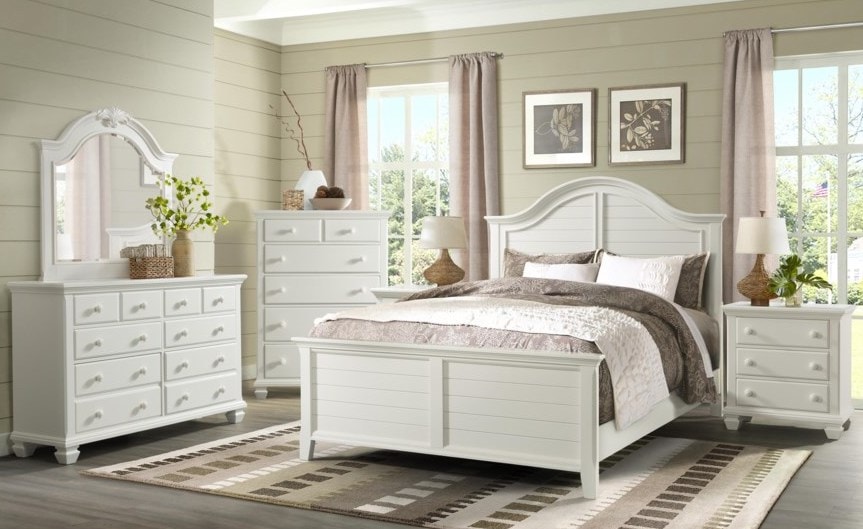 How to Choose Furniture for Your Cottage Grove Space
The Cottage Grove look emphasizes lighter paints, fabric colors, and woods. While there's always some opportunity to stray from the template, your primary color should be lighter: warm white, beige, mild yellows, and the like.

Wooden furniture tends to be unfinished or painted with little polish or lacquer. For instance, consider the Bay Fall River Chest from Lexington's Oyster Bay collection. The natural grain of the wood and the light coloring make it ideal for a Cottage Grove bedroom. Combined with other pieces from the Oyster Bay collection, this understated, beautiful chest can help brighten up the bedroom and deliver true cottage appeal.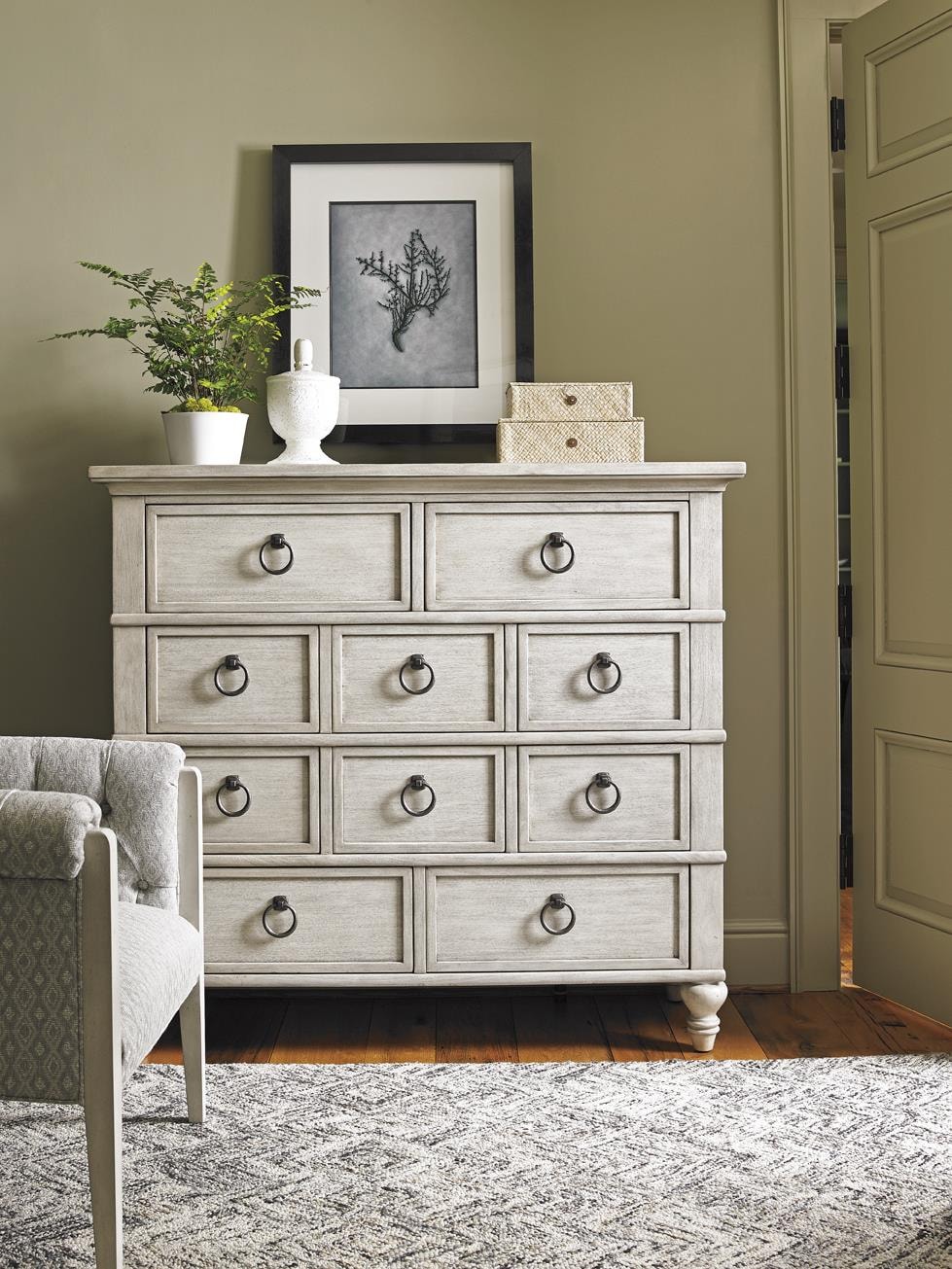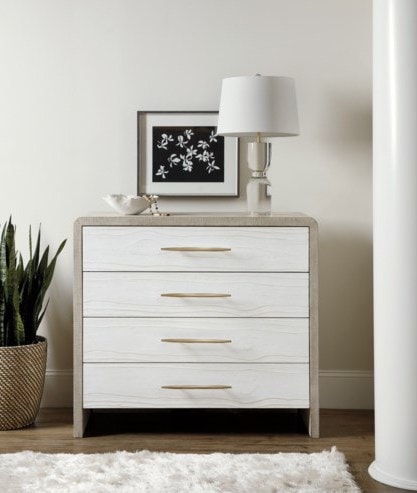 Though whitewashed, lighter-colored wood is a mainstay with this popular decorative style, you aren't relegated exclusively to wood pieces.
When it comes to choosing upholstery for sofas or chairs, you can select slightly darker materials or patterns as long as they don't overpower the space. Seating should be plush, cozy, and intimate. Think loveseats and sofas, as opposed to sectionals.
Even the right accent recliner can be a welcome addition to a coastal theme. Check out this Best Home Swivel Glider Recliner, available in nine colors. This is the perfect accent piece for the Cottage Grove style.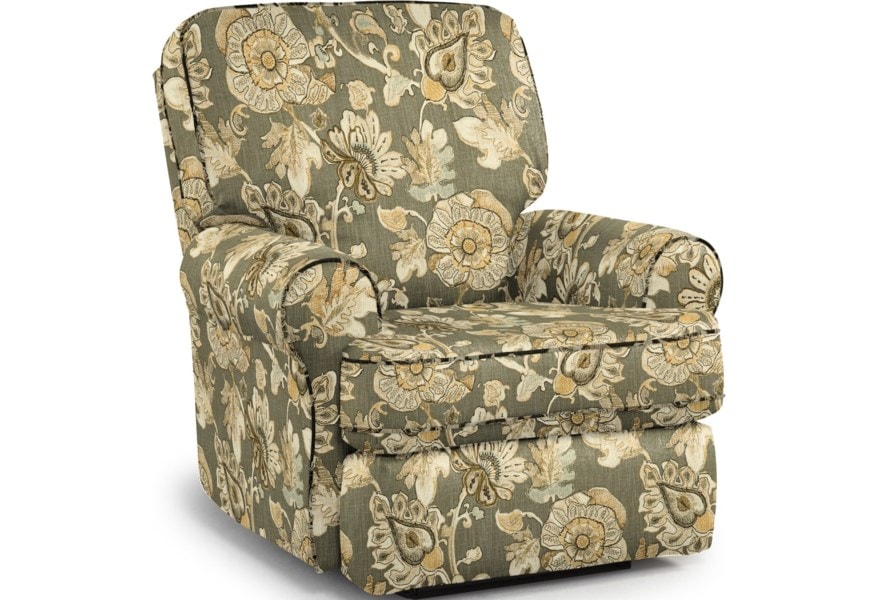 Tips for Achieving the Cottage Grove Style
If you have fallen in love with some of the looks we've shown you and you want to transform your space using the Cottage Grove aesthetic, our expert designers have assembled a list of tips to help you get started.
Don't Start Over if You Don't Have To
There are many styles that can easily convert to Cottage Grove with a few adjustments. With a coat of paint, a change of a few accessories, and maybe a new piece of furniture or two, you may be able to convert a rustic, coastal, or Cottage Core theme to Cottage Grove. So, don't feel like you necessarily have to perform a floor-to-ceiling room makeover. Use what you have.
Choose Your Color Palette
Cottage Grove may be a lighter version of Cottage Core, but an all-white room can feel cold and clinical. If you are using white as a primary or secondary color, select a warmer white, like ivory or alabaster. If you have white-washed furniture, choose a slightly darker but warm color for the walls. You can go darker with accessories as long as they aren't too vivid. Avoid jewel tones altogether.
Accessorize Your Space
As with any decorating motif, it's the details that bring it all together. You can warm up your space and tie elements to each other with accessories. You may also find that the space is so light that it's lost its coziness. Adding some darker throw pillows, a quilt, and an area rug will up the cozy count for the space.
Create Atmosphere with Scent
There are certain aromas that are distinctively cottage-y. Fruity notes, cinnamon, pine, and some floral scents can create the pleasant, relaxing atmosphere that you're aiming for with Cottage Grove décor. One of the best ways to achieve this is with scented candles, which will not only permeate the air but offer a warm glow to your newly styled space.
Where to Shop Cottage Grove Furniture
With dozens of in-stock pieces from Tommy Bahama Home, Stillwater, Universal, Lexington, and others, you will find everything you need to furnish your Cottage Grove space. Stop in at a Baer's Furniture showroom near you today!