Tropical Décor for Florida and Beyond
With its year-round balmy climate and thousands of miles of beaches, Florida is one of the hottest travel destinations in the U.S. Those of us who live in the Sunshine State are truly fortunate, and maybe that's why so many of us decorate our homes with tropical décor.
But with all the time spent at home these past years, it's more important than ever to surround yourself with what makes you happy.
At Baer's Furniture, our designers have embraced our Florida roots, and you can find dozens of tropical furniture pieces in every showroom. Here are a few tips for warming up your home with Floribbean inspiration.
4 Tips For Achieving the Tropical Look in Your Home
If you're passionate about tropical décor and want to bring this stylish look indoors, we have some great suggestions for you to reimagine your indoor or outdoor spaces with warm, inviting looks.
Baer's Furniture is the largest retailer for one of our favorite tropical-inspired brands, Tommy Bahama Home. Their lavish pieces are constructed from tropical materials like polished rattan, lacquered bamboo, and rich, earthy teak.
1. Use Tropical Woods for a Genuine Look
This theme is popular enough for there to be tropical-style furniture made from nearly every material under the sun, but for a natural tropical feel, make sure that your pieces at the very least incorporate regionally-found woods, like bamboo, rattan, or teak. Not only are these extremely durable and versatile materials, but they have a distinctive look that's difficult to replicate with other plant sources.
Notice how the Tommy Bahama Home Island Estate West Indies Canopy Bed combines bamboo posts and trim with rattan elements? This is what makes it an ideal piece for a tropical setting.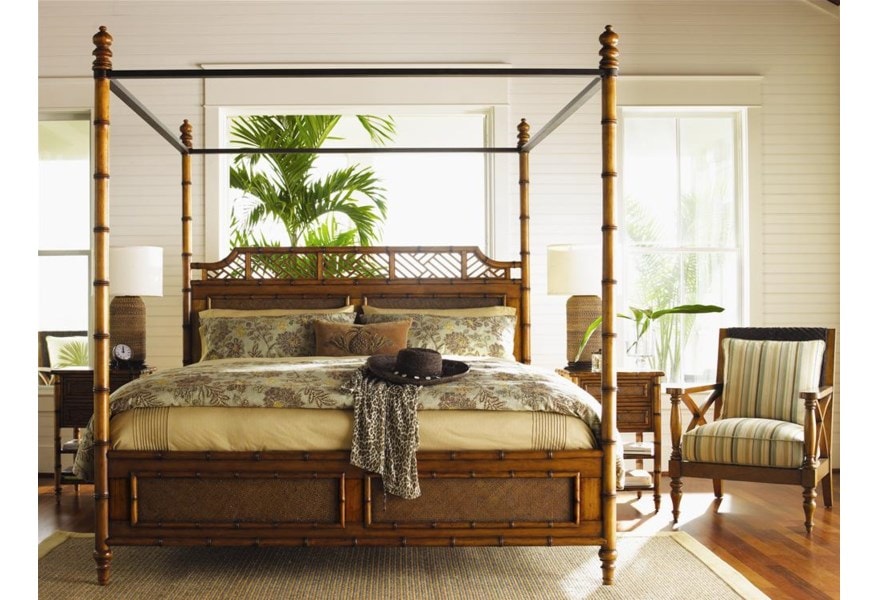 2. Accessorize With Potted Tropical Plants
Many varieties of tropical trees and plants are indigenous to Florida and would make gorgeous additions to your space. If you are going to invest in natural plants for indoor décor, keep in mind that they will require plenty of sunlight and water. After all, they're used to tropical weather.
Tropical plants that are more likely to survive indoors include Birds of Paradise, Fishtail Palms, Umbrella Trees, and Rubber Trees. For a more complete selection, contact your local nursery.
If you are in a cooler climate or you just don't feel like your thumb is quite green enough to keep these tropical beauties alive, you can always opt for faux foliage. Notice how "at home" this tropical plant looks on top of the Island Estate Antiqua Server with woven cane panels.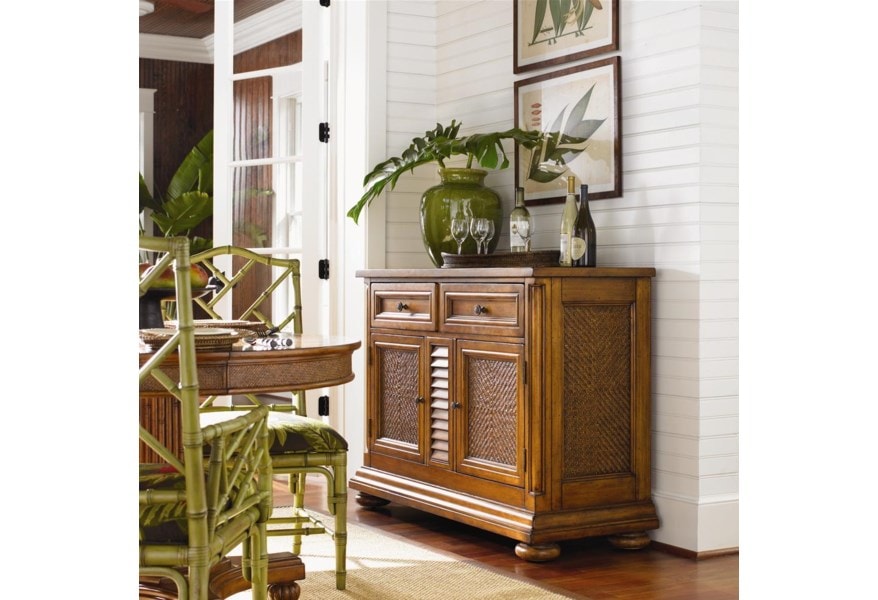 Remember that plants also allow you to accessorize with tropical-themed pottery. You can have fun mixing and matching ceramic and wicker planters to enhance your décor. If you're running out of floor space, use a hanging planter or two.
3. Tropical Leaf Themes
You can fill your home with greenery without bringing the jungle inside by decorating with tropical leaf themes. The fabrics of drapes, throw pillows, and bedspreads are all excellent places to display tropical leaf patterns. The Stone & Leigh Larissa Sofa comes with tropical pillows. Look at how well they blend with the natural foliage in the room.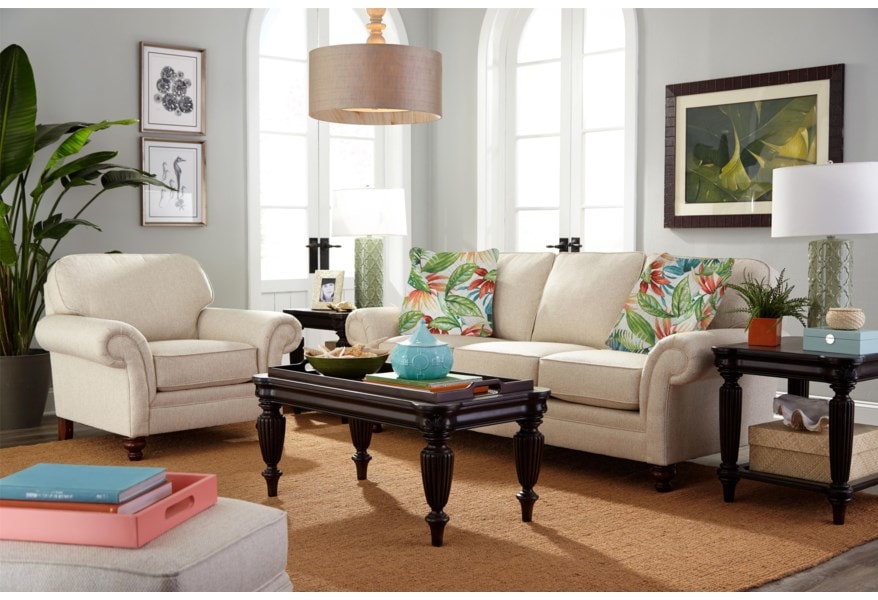 If you plan on incorporating potted plants and leaf themes in your décor, use a light touch because too much foliage can make your home appear cluttered or over-the-top.
4. Wicker and Other Weaves
Islands and other tropical locales have historically had to create items from the raw materials that are immediately available. That's why so many authentic tropical items are made from woven vines, fibers, and other plant materials. This is a design element that you can't ignore if you're going for a tropical look. You'll notice a basketweave texture in many tropical pieces, but you can also accessorize with wicker accent chairs, baskets, or boxes.
Don't Forget Outdoor and Poolside Decorating
Naturally, your yard, patio, and pool deck are ideal places to manifest the Tropical look. Many Tropical designs are made for outdoor usage, but you should make sure that the pieces you're considering are designed for outdoor usage. Tommy Bahama Outdoor Living features a number of excellent furniture pieces that are weather-treated for outdoor usage, fit in well with tropical outdoor décor and are available at Baer's Furniture.
Stop in at your local Baer's Showroom to get started finding the perfect pieces for your home - wherever it may be!