How Tommy Bahama Home is Revolutionizing Furniture
Tommy Bahama was founded in Naples, FL with the idea of creating a beach lifestyle for everyday living, which may be why it's such a popular brand in the Sunshine State.
Originally limiting this vision to clothing and accessories, Tommy Bahama eventually began expanding its empire to include indoor and outdoor furniture. With one of our signature, Baer's Furniture stores located in Tommy Bahama's hometown of Naples, we are proud to partner with this iconic Florida brand.
The History of Tommy Bahama and Tommy Bahama Home
Founded by Tony Margolis, Bob Emfield, and designer Lucio Dalla Gasperina, Tommy Bahama Group, Inc. was formed in 1993 with the idea of creating a brand that emulates beach living.
During this expansion of products, Tommy Bahama also began manufacturing indoor and outdoor furniture that celebrates coastal and tropical décor styles. Tommy Bahama Home became an instant staple in Florida, where the architecture tends to celebrate the warm weather and sunshine. Vaulted ceilings, floor-to-ceiling windows, sliding glass doors, and open floor plans typify Florida homes.
Why Tommy Bahama Furniture is Special
Tommy Bahama Home and Tommy Bahama Outdoor Living are now subsidiaries of another name that's synonymous with high-end furniture products: Lexington Home Brands. Under the umbrella of Lexington, Tommy Bahama has been able to expand its lines and retail space without sacrificing quality.
As is the case with Lexington-branded furniture, Tommy Bahama furniture is made of high-quality materials, like natural wood, carbon steel, natural-cloth fabrics, and premium-grade leather. The Tommy Bahama Home brand is legendary for its relaxed interpretation of casual elegant style. Our home collections range in looks from British Traditional to Pan Asian Contemporary to Refined Island living. The common denominator is an elegant blending of intriguing original designs, exotic natural materials, and extraordinary custom finishes.
Selecting a Tommy Bahama Piece or Collection For Your Home
If you've already decided that you want to incorporate some Tommy Bahama Home furnishings or even a collection into your home, we have some tips to help with your selection.
Select Your Color Palette
There's no specific set of rules for which colors go best with Tommy Bahama furniture. Most of their products have neutral color schemes, but are designed to go with coastal, tropical, and sometimes transitional décor. With this in mind, consider selecting your color palette to match the style you want for your space.
For example, the West Indies Canopy Bed is ideal for a tropical bedroom, as seen here, but with more monotone, white, or off-white bedding and accessories, it could also be incorporated in a coastal space.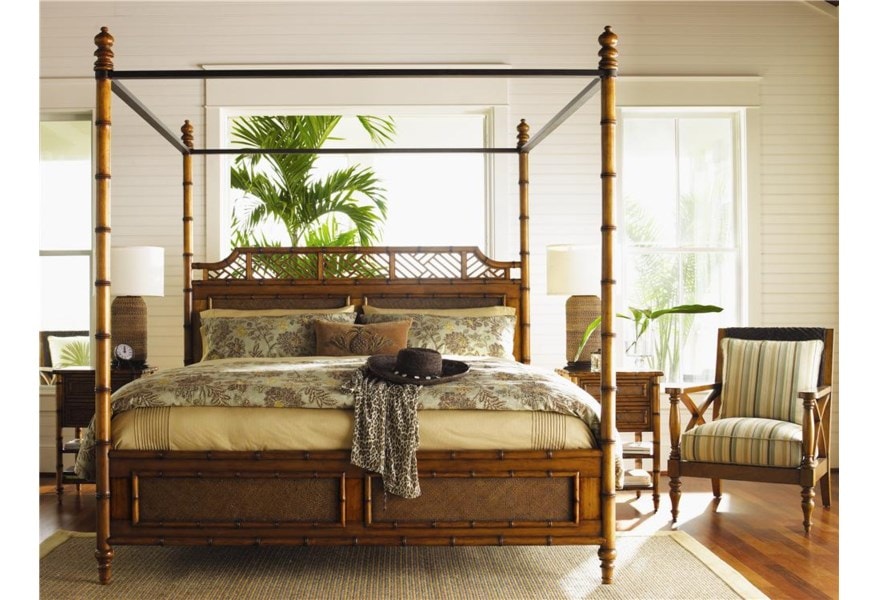 Measure Your Space
This tip really applies to all furniture purchases, but there are specific rules for coastal and tropical themes. Coastal spaces tend to be more open and well-lit, while tropical spaces can be a little darker with smaller walkways between the furniture.
This large dining area is the perfect setting to install this Ocean Breeze Formal Dining Set by Tommy Bahama Home. The generous allowance for windows washes this room in indirect sunlight and the open space is ideal for a coastal dining set.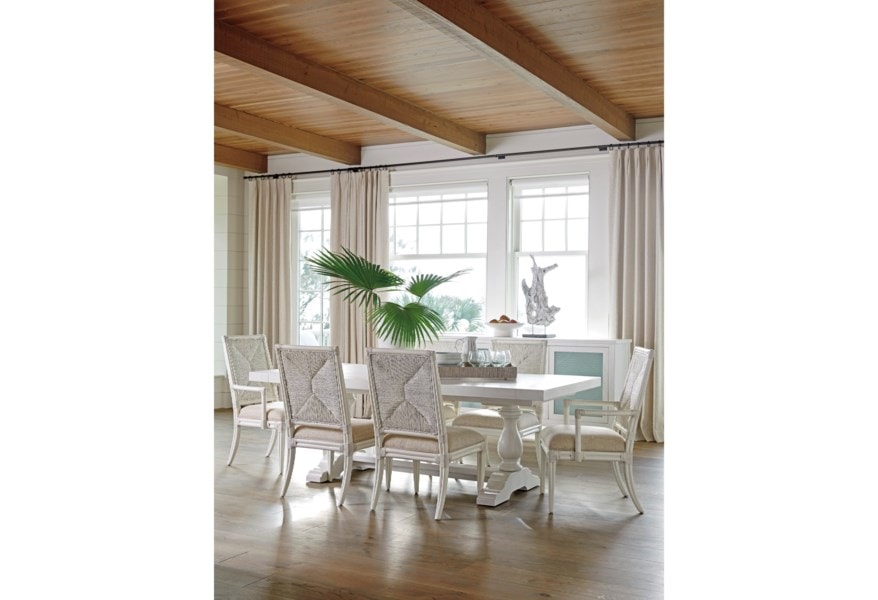 Remember to Include Storage Space
Nothing will derail a decorative theme like clutter. Furniture designers have long been aware of this universal problem and Tommy Bahama Home is no exception. Regardless of which direction you're intending for your space, remember to include plenty of storage.
A good rule of thumb is 50% more than you anticipate needing. Check out the extra drawer space that the Bonita 3-Drawer Nightstand, shown here as the perfect complement to the Royal Palm Louvered Bed, provides for the room. Add a dresser of your choice and you'll have plenty of space for foldable clothing, magazines, remotes, and more.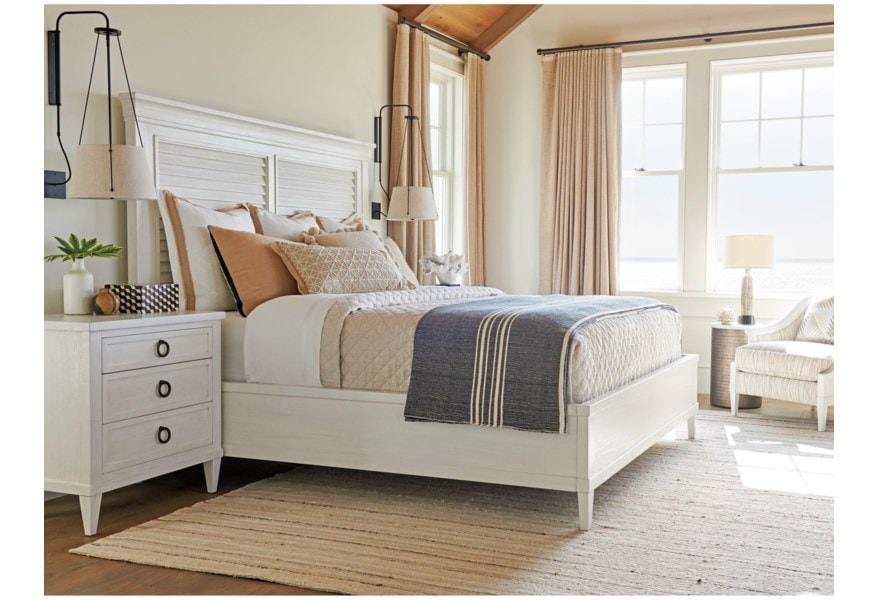 Where to Find Tommy Bahama Home Furniture
One of the best ways to determine whether or not a piece of furniture will work with your design style is to see it in a store display set. At Baer's, we have millions of square footage in display space, and a significant- portion is dedicated to Tommy Bahama Home furniture. You can also talk to our design experts who are more than happy to steer you on your décor journey.
Baer's Furniture is the number one retailer of Tommy Bahama's home furniture in the world and from the looks of it, we're going to be on top for a while. Bring your photos, color palette, and measurements to your local Baer's Furniture store and shop Tommy Bahama Home today!