Straight Lines vs. Curves – Can They Live Together in the Same Space?
You may have never considered mixing straight lines with curves to be a problem, and in some spaces, it really isn't. But with the popularization of minimalism, and its adherence to geometric shapes and patterns, curvy furniture became more evident by contrast.
At Baer's Furniture, our designers believe that mixing curved and straight furniture doesn't have to be a compromise, and we can show you how to marry straight lines with curves like an interior design pro.
What Are the Challenges With Combining Curves and Lines?
Just as specific colors can clash with one another, so can shapes.
Consider an easy chair with rolled arms, a camelback, and cabriole feet. Now place that next to a minimalist sofa with simple, clean edges and squared feet. Without any other pieces to connect the two styles, this chair and sofa combination probably won't work together.
When you're matching curvy furniture with straight pieces, they must have a connection to one another. This can be similar coloring, texture, style, materials, etc. Often, furniture has different shapes because they come from different styles of décor, which can add to the challenge. Additionally, it's rare to find straight and curved pieces from the same collection, so you rarely get help from the designer. So, you often have to create your own connections to make your curved and straight furniture get along.
3 Tips for Mixing Curved and Straight Furniture
The following tips can help you create the cohesion you're looking for when mixing and matching these two furniture shapes.
1. Match Other Features
If the shapes are dissimilar, try to make sure other variables complement each other. Color, texture, and materials can all be binding factors. That does not mean that your curvy couch has to have the same fabric and tone as your straight-edged loveseat... Overmatching can also be odd.
Instead, the pieces should complement one another at some level. Check out how well the ultra-round Palm Desert Sonata Tub Chair pairs with the straight lines of this Stone & Leigh upholstered sofa. The colors match as well as the soft fabrics. The difference in shapes between the two items becomes an afterthought.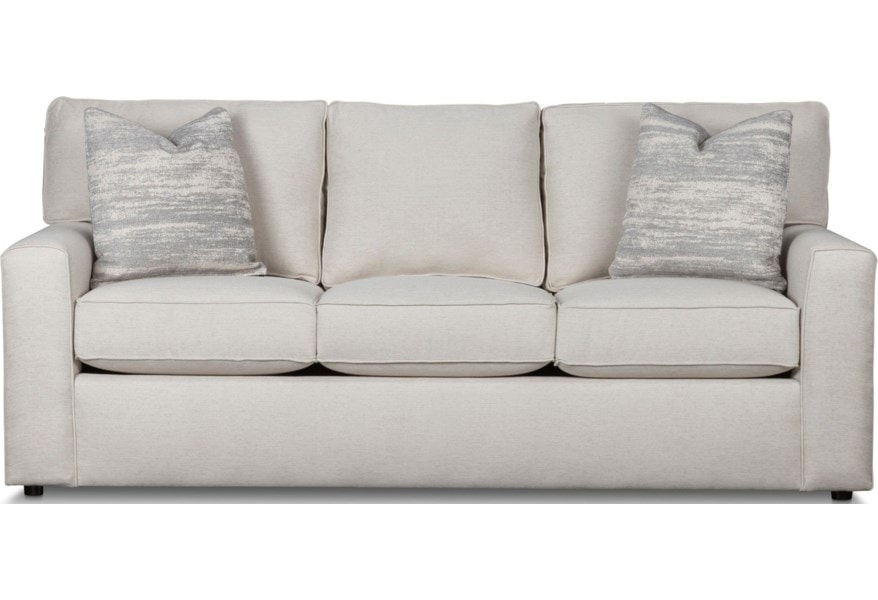 2. Maintain Balance
If you drop a Victorian-style chaise lounge next to a large squared-off sectional, of course, you're going to have pairing problems. Interior decorating is largely about balance. If you tip the room too much in favor of one style over the other, the recessive characteristics may be the ones that stick out, which is not what you want.
With this in mind, most spaces already have plenty of straight lines: corners, windows, doors, etc. You can use this fact to favor curved furniture in the room... at least a little bit.
The Barclay Butera Malibu Formal Dining Group in this image beautifully demonstrates how rounded edges can work well with straight lines. The room has numerous straight lines: windows, area rugs, shelves, sideboard, and the table itself. The camelback chairs mix trumpet and saber chair legs, adding tons of curves to the most dominant furnishing. Note the scrolled arms on the end chairs.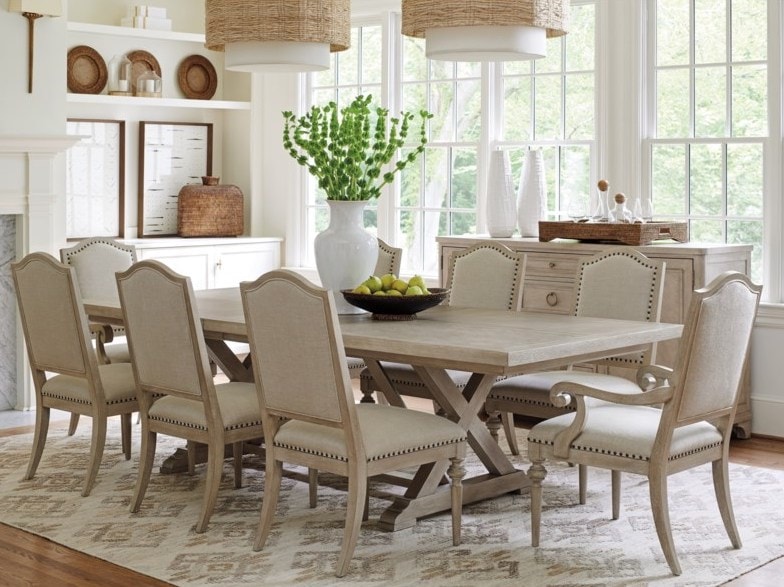 3. Use Accent Pieces to Unite the Shapes
If you find that you have either a deficit of curves or straight lines, you can use accent pieces to bring the room into balance. Throw pillows may be the most obvious solution since they can easily be found in multiple shapes, colors, and sizes (which is why they're so often the right decorative solution), but you can also look to mirrors and art frames, area rugs, lamps and shades, vases, and even place settings to bolster the strength of a particular shape.
A Few Things to Avoid
No one wants to buy an expensive piece of furniture only to find that it doesn't work in their space. When you're mixing straight edges and curves, here are a few tips to help you avoid making the wrong move:
Plan Your Theme: Don't be overly adventurous. Mixing straights and curves can be as tricky as mixing and matching patterns. Pick a theme and buy pieces that fit. Stick to a particular style or closely-related styles.

Don't Force the Mix: If you really only want either curves or straight lines, don't force a mix and match that you ultimately won't be happy with. Choose a side.

Don't Forget the Non-Furniture Shapes in the Space: Printed curtains, patterned wall-papers, carpets, and large pieces of artwork also have their own shapes, and they have shapes within them. Make sure you consider these when choosing furniture.
We believe that curves and straight lines are two shapes that can share the same space, but only with careful curation.
If you need help planning a room, stop in at Baer's Furniture stores in your area to speak with one of our trained design experts.