How to Join the Sculptural Furniture Trend
"Art" brings to mind paintings, sculptures, and other objets d'art... but we typically don't think of furniture.
Enter the sculptural furniture trend. This interior design craze plays with form in interesting and fun ways.
It prizes furniture in architectural, abstract shapes that defy conventional expectations. Sculptural encompasses pieces in a wide variety of geometric shapes — just as long as it's not the standard, everyday silhouettes that we're used to seeing in sofas, chairs, and other conventional furniture pieces.
This trend celebrates curved lines, asymmetrical edges, artistic furniture frames, and abstract shapes to create an aesthetic that is equal parts eccentric and sophisticated. These furniture pieces are essentially a form of functional art in your home that double as a conversation starter.
The trend takes a cue from another popular design aesthetic, Grandmillenial or "new traditionalist" style, which adapts the traditional design elements of yesteryear to modern life. This décor style values mixing conventional furniture pieces and highlighting with sculptural décor objects. This aesthetic refreshes and updates classic styles by using unusually shaped accent pieces and lighting fixtures.
What's the difference? Sculptural furniture style makes geometric design elements the focal point, not just the accents.
Let's take a closer look at achieving this elevated and unique aesthetic.
Curvy Lines
Furniture with curvy lines is one way to get on board with this statement trend. Curved furniture silhouettes have been trending for a few years now and show no signs of stopping. You may remember this trend from the '70s or '90s when curvy lines also had a moment in furniture design. We're so glad it's back!
Traditional furniture takes a boxier shape and uses curved lines sparingly. The arm of a lounge chair or the edge of a sofa back might have a slight curve to look more interesting, but conventional furniture typically embraces more angular lines.
Sculptural furniture often uses more dramatic curvatures and rounded shapes, especially in places where you might not expect to see it. It looks cool and edgy and can soften the straight lines that dominate many spaces.
Check out the striking curvature and luxurious comfort of the Larissa Queen Sleeper Sofa by Stone & Leigh. The rolled arms and exposed sculpted legs make this cream-colored beauty a perfect curvy piece that goes with many decorative styles.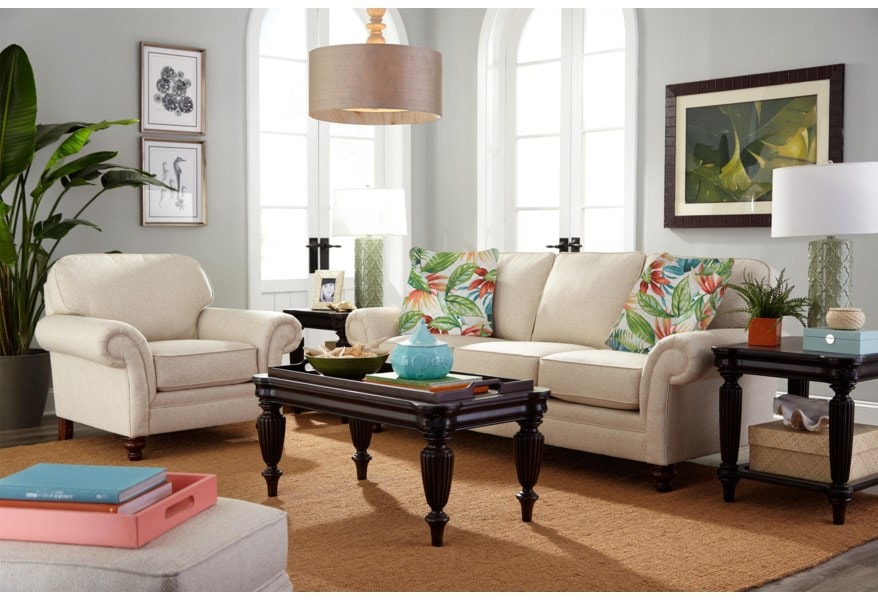 Artsy Frames
Furniture with frames in more abstract, avant-garde shapes offers yet another way to get in on this trend.
Artsy and geometric, these pieces are a study in form. Sculptural furniture celebrates unique forms that are a departure from conventional shapes. Pieces in this style may offer a subtle variation on a traditional shape, like this Caracole Classic Contemporary Side Table. This high-end side table has unique angles that make it more of a parallelogram than a rectangle or square.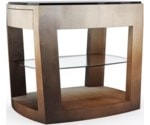 Or, sculptural pieces may cut a shape that's a complete break from tradition, like the Oyster Bay Deerwood Chain Link Side Table. A true study in form, this table is a piece of art. It plays with negative space by using a base of interlinking squares.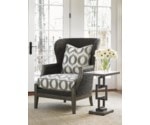 Puffy Shapes
Puffy furniture offers a variation on the sculptural furniture trend. Sculptural pieces, though they shun traditional shapes, often have sleek silhouettes.
However, plumpy, poufy pieces have an oversized abstract form that exceeds the bounds of conventionally shaped furniture, making them suitable for this trending style. Puffy furniture has an element of whimsy and fun that lightens the mood in any room.
The Bernhardt Shelter Swivel Chair is a classic example. The chair's amorphous shape celebrates excess with the rounded lines of the seat pad, and the wraparound back looks sophisticated and invites you to settle in and get comfy. Its swivel feature adds yet another playful element. It's a chic way to get in on this trend.
Tips for Styling
Sculptural furniture can look out of place if you don't style it right. Simply adding a poufy chair to your existing furniture may not give you the cohesive, modern look you want. Follow these tips to make abstract furniture pieces work in your space.
Create Balance – If you want your sculptural chair or table to stand out, give it a central location and juxtapose it with more traditional, angular shapes. Sculptural pieces should be the space's focal point, which means that the rest of the room should feel more streamlined.

Play with Texture and Color – Experimenting with contrasts in color and texture can help you create a space that stands up to the boldness of geometric furniture. Softer textures and earthy, neutral colors can help warm up the room. Of course, you can amplify the boldness of an abstract chair or table by pairing it with textures and colors that are equally loud and vibrant.

Embrace Drama – It's perfectly fine to choose to add a single sculptural piece in a room with more muted or minimalist style elements. But you can also step on the gas and embrace the architectural feel of this furniture by curating a space full of artistic pieces. It will make you feel like you're living in an art gallery.
We think this trend is more than a passing fad. People want living spaces that feel rarified and interesting, and are bored with the angular lines of classic furniture shapes. Sculptural furniture is the perfect way to accomplish this and make your space feel sophisticated and stylish.
Not sure where to start? Visit a Baer's Furniture near you today to work with our talented design specialists and find the sculptural look you've been waiting for!