Finding the Lynchpin: How 1 Piece of Furniture Can Bind an Entire Room
People tend to take one of two approaches to decorating:
They decide to transform the entire space at once

They gradually phase out unwanted items and bring in new ones
Both have their pros and cons.
In a complete room makeover, one miscalculation can throw off the whole design... On the other hand, when you accumulate separate pieces, you can run into a situation where you purchase two or three things you absolutely love individually, but they don't play well together when you put them in the same room.
But, on rare occasions, a hodge-podge of seemingly disparate items is just waiting for that Goldilocks moment... and magic occurs with a single piece of new furniture.
Regardless of whether your space is traditional or modern, mid-century or minimalist, or you've chosen another decorating path, Baer's decorating experts are going to show you how to tie it all together with a single furniture item.
5 Tips For Finding the Lynchpin
There are no one-size-fits-all solutions to finding a binding piece. Every room has a different size, layout, and theme. Some of the following tips may work for your space but don't feel that you necessarily have to incorporate all of them. If you can check two or three of these boxes, you're probably on the right track.
1. Matching Colors
This may seem like the most basic of decorating tips, but it's important to pay attention to the colors of your space. Choosing a piece that works well with the primary and secondary shades and even the tertiary tones can draw the whole color scheme together.
Consider the number of color options that would match well with the neutral tones and creamy texture of the Bernhardt Candace Sofa.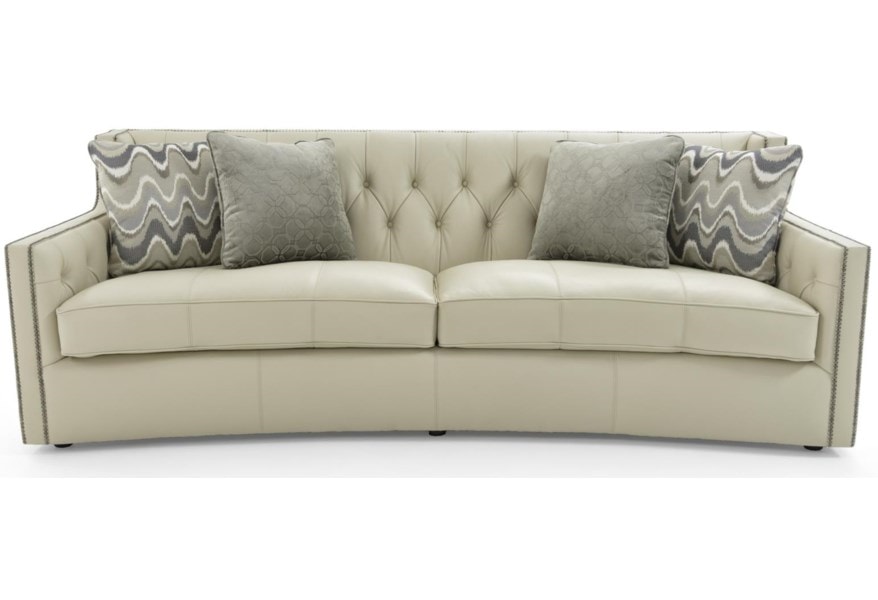 We recommend using the 60-30-10 rule, which means that 60% of your room should be the primary color, 30% the secondary color, and 10% the accent color. If your room is out of balance, bringing in a piece that matches your primary or secondary color can restore the desired proportions.
2. Comparable Shapes
You may look around your room and realize that some of the furniture you've acquired has curves, while some have rigid, straight lines. The cure just might be a single piece that connects both shapes.
The Tommy Bahama Home Rum Beach Chair has straight legs and a squared base but shows off its curves around the arms and wingback. The striped print can also draw different color options together, making it a one-two punch.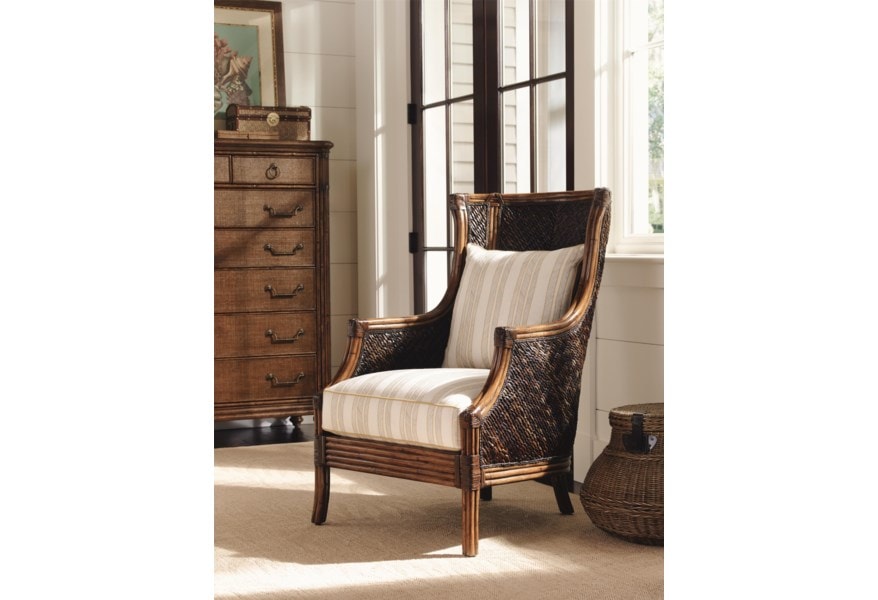 3. Bridging Décor Styles
Some decorative styles are natural matches, like rustic and farmhouse or Cottage Core and Cottage Grove. At the same time, others can be a little trickier to bridge.
When you find the right piece that complements both styles of décor, you can bring the two looks together. With its clean lines and ombré leaf finish, the Caracole Classic Contemporary Cocktail Table is a comfortable match with traditional, modern, minimalist, and of course, contemporary styles. Look at the way it binds several design disciplines in this stunning living room.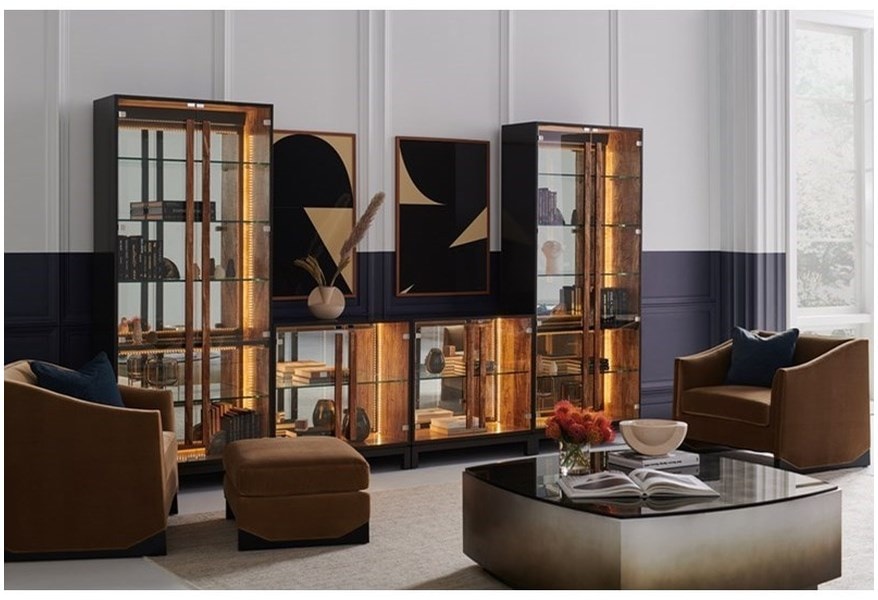 4. Pay Attention to Size
Tying a room together with a lynchpin piece is about balance, so it's essential that you don't over-furnish the room. Finding a lynchpin sofa when you already have a sofa and a loveseat in a small space might be furniture overkill. If you can give the room a balanced look by replacing existing furniture, then that may be your best option.
Don't stuff your space trying to connect the dots.
5. Use Fabric and Wood Samples
If you're trying to match colors, textures, lines, etc., it doesn't make sense to order furniture without being sure that it will work in your room. When you're shopping for that perfect piece, bring paint cards, fabric swatches, or even a small accessory (i.e., throw, pillow, smaller lampshade, etc.) with you while shopping.
It's not necessarily practical to bring a piece of wooden furniture with you, but some wood furniture has smaller removable parts, like a drawer knob or a bed knob, that you could borrow for the trip. Always take pictures of the space you're decorating, but don't rely solely on phone photos when matching colors.
Talk to an Expert
At Baer's Furniture, we staff our sales floors with trained decorating consultants. Whether you're shopping for an entire collection or that perfect lynchpin piece, stop in at a local Baer's Furniture store near you to discuss your decorating vision with one of our representatives.