Mid-century Modern vs Contemporary Design: How to Mix these Styles
Whether you feel that you're a design expert that is fully versed in the nuances of Mid-Century Modern design, contemporary design, or both, or you just happened to have admired one of these still-trending styles in a home décor magazine, this article will help familiarize you with the similarities and differences of the two disciplines.
If you're considering transitioning from MCM to Contemporary or fusing the two looks together, we have some fantastic tips as well as pieces by top-tier furniture manufacturers for you.
What Makes a Design Mid-Century Modern?
As with any design style, Mid-Century Modern has specific colors, shapes, textures, and themes that distinguish it from other, closely related designs. Here is a checklist of traits that are characteristic of MCM:
Muted tones or vibrant colors (avoid the in-between)

Clean furniture lines

A mix of both natural and manmade materials. You'll find chrome and pleather mixed with wood and leather in Mid-Century Modern spaces.

Geometric shapes or lines

Mixing indoor and outdoor themes (for example, a chaise lounge in the living room)
Mid-Century Modern décor attempts to recapture the spirit and mood of mid-20th century style. As a result, any change to Mid-Century décor is confined by that construct. If not, it may look great, but it's no longer Mid-Century.
An Overview of Contemporary Design
Unlike Mid-Century design, contemporary is constantly evolving. What was considered "contemporary design" in the 1980s is no longer what would be contemporary today. However, like Mid-Century, contemporary has traits. These include:
Strong use of texture

Neutral colors

Strong lines. They don't necessarily have to be straight or curved but distinct. A round area rug can fit into a contemporary space as well as a quadrangle, as long as the edge is distinct. In other words, no fringe or tassels.

Furniture tends to have distinct, geometric lines, similar to MCM.
Why is Contemporary Sometimes Reminiscent of Mid-Century?
Contemporary design came into vogue in the 1970s, at the tail end of the Mid-Century Modern phenomenon. Because interior décor never announces the end of a style's lifespan or the beginning of a new theme, certain elements of contemporary can probably trace their roots to the Mid-Century style. This is excellent news if you're trying to transition from one motif to another or if you want to create a dual-motif space using design elements from both the Mid-Century Modern and contemporary themes.
Elements to Tie the Décor Styles Together
You can utilize color, shape, and materials to transform your Mid-Century room into a contemporary room. We have selected a few pieces of furniture that will work with either discipline.
Our first selection is the striking Tommy Bahama Ocean Club Bed. As mentioned earlier, contemporary design makes a strong declaration of lines. This gorgeous bedframe has a strong rectangular shape, with smaller rectangles appearing throughout the frame. The rich walnut color of the wood is ideal for Mid-Century bedrooms, as walnut and maple are de rigueur for this style.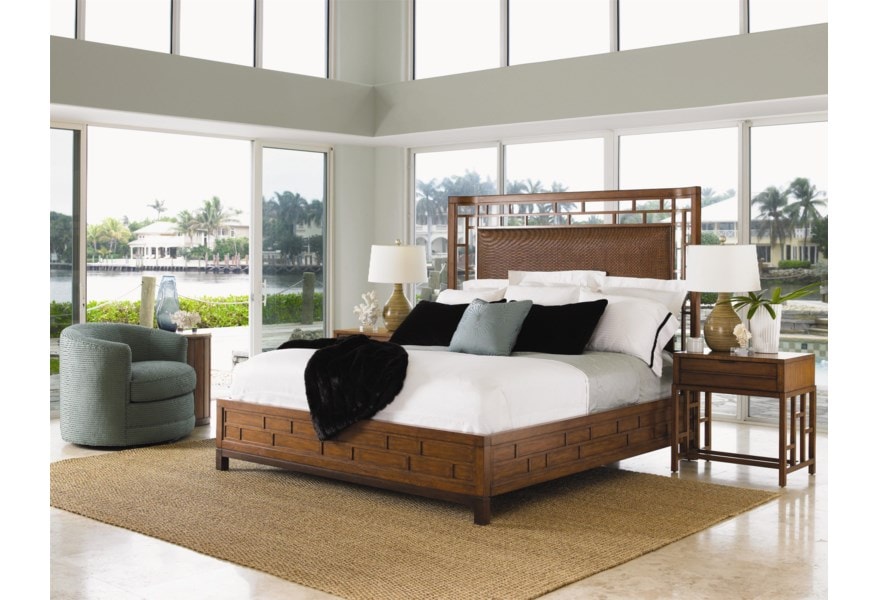 If you are looking to make a more subtle change to your contemporary or Mid-Century bedroom or living room, consider the Bernhardt Solaria Accent Table. This round, drum-shaped table was inspired by Mid-Century design, but it was created with the contemporary theme in mind, making it the ideal crossover piece. The weathered bone exterior works famously with nearly every color palette.
For a bolder statement, we have Hooker Furniture's Big Bang Entertainment Console. Its clean geometric lines and handle-less doors allow this magnificent entertainment center to fit into a Mid-Century or contemporary living room. The expansive storage space allows you to hide away non-thematic elements of the room (i.e., electronics, remotes, quilts, etc.)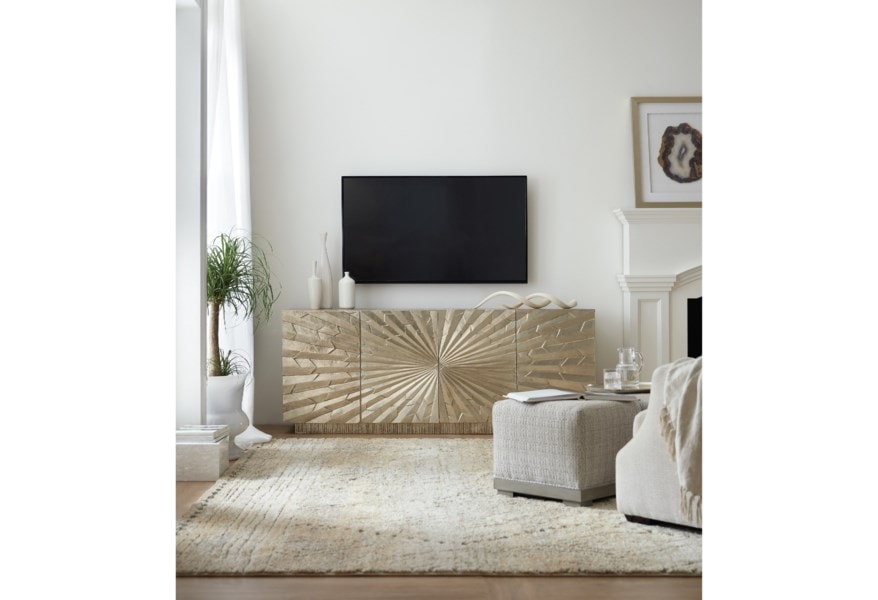 Few accessories can help define a style like the chairs you surround your dining table with. These Bernhardt Decorage Contemporary Side Chairs can be the lynchpin between contemporary and Mid-Century modern. With clean lines, rich textures, and muted tones, these dining chairs check all of the boxes.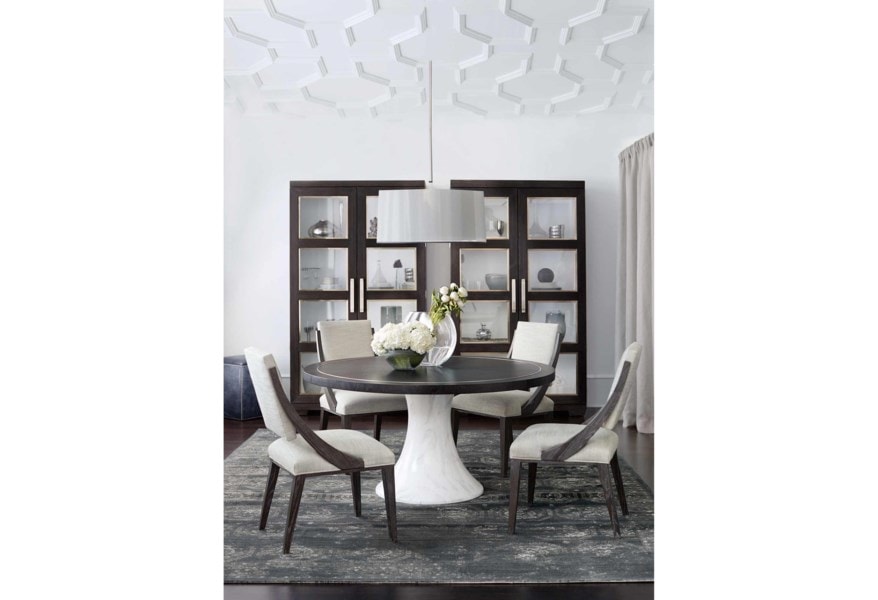 Shop In Stock Contemporary and Mid-Century Modern Styles
Baer's Furniture boasts millions of square feet of display space in our Florida furniture showrooms. Because our staff is comprised of trained design experts, you can rely on us to help guide you on your quest to merge MCM and contemporary design. Or, if you want to go in a different direction, they can help you there as well. Find the Baer's Furniture near you today!