Knowing When Transitional Is the Right Move for You
Is your home ready for a fresh look? If you're looking to explore a new decorating style, transitional design could be your next move!
What is Transitional Decorating?
Transitional is a rich interior design style, hallmarked by mixing traditional and modern styles in a contemporary way. The décor relies on neutral and natural tones along with a combination of crisp and smooth angles, modern lighting, and strategic use of accent pieces to create a beautiful style of space favored by many designers.
While transitional might allow decorators more freedom to fuse different themes together, it is not simply the meshing together of two or more styles. There are rules, and the design experts at Baer's Furniture can show you the ins and outs of this popular décor option.
The Transitional Color Palette
Neutral palettes are one of the indicators of transitional style. Think taupes, tans, and vanillas married to dark browns. These colors can best be paired with each other along the furniture landscape, with accent pieces in ocean blues or greens to provide some organic contrast.
The neutral palette prevents any color from becoming too dominant, keeping the room's focus pleasantly nonspecific. This helps contribute to the overwhelming relaxation that can typically be felt in transitional spaces.
Incorporating Texture as a Design Feature
In addition to colors, proper use of texture is a significant component of transitional decorating. For example, this Chateau D'Ax CB52 Leather Sofa has a great deal of texture on its surface, which serves to add depth to the space in which it is placed. Though this particular sofa is not a neutral color, it can be used as a visual focal point to the room (an accent piece) and be surrounded by more muted colors, which will be in line with transitional style.
Texture can be used to add dimensionality to a place or highlight a specific area of the room, much in the same way an accent piece might be. However, this leather sofa does both, seamlessly adding style to the area with its textured surface as well as highlighting itself.
Limiting Accessories
Transitional style design is known for downplaying accessories, preferring instead to allow the core pieces of furniture to dictate the look. This means that in transitional style design, you are more likely to find accent chairs, tables, and other pieces than you are to see throws, pillows, and vases.
Adding too much unnecessary visual cacophony to the space is what transitional seeks to avoid. This doesn't mean that there are no accessories, just that the space devoted to them is limited and organized.
For instance, you might elect to display your favorite objets d'art in something like this A.R.T. Furniture Arch Salvage Gwynn Curio Cabinet. It provides a gorgeous display case for your accessories and draws visual attention to them by virtue of its unique design.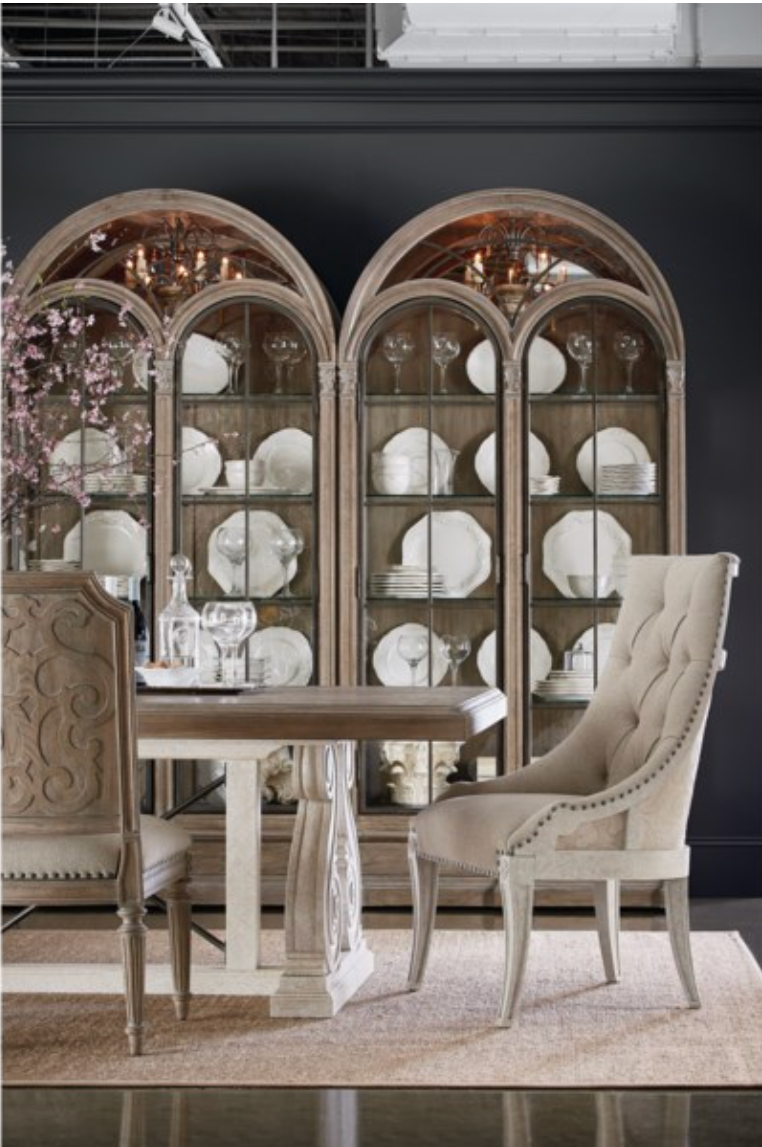 And this way, you don't have accessories sprawled all over the house adding visual noise. Add a few picture frames to this case, or maybe a knick-knack or two. It will surely be a great way to display the limited accessories used in a transitional environment.
Lighting in Transitional Décor
Transitional style favors bright, modern lighting. Now, this doesn't mean that the lighting has to be monotonous, just consistent. You don't have to illuminate all your rooms with a dull fluorescent light that looks like it belongs more in an emergency room than a home.
You can make the light in your rooms as bright as you would like and it will help highlight your furniture, but do not tint the light or otherwise add color. Tinted light will confuse the design scheme. Imagine you have this Lexington Oyster Bay Seven Piece Dining Set in your dining room, but the lights are tinted a rose color or just aren't very bright. That will ruin the brilliant pearl white look of the dining set. It deserves to be highlighted and put on display with clear, bright white lights.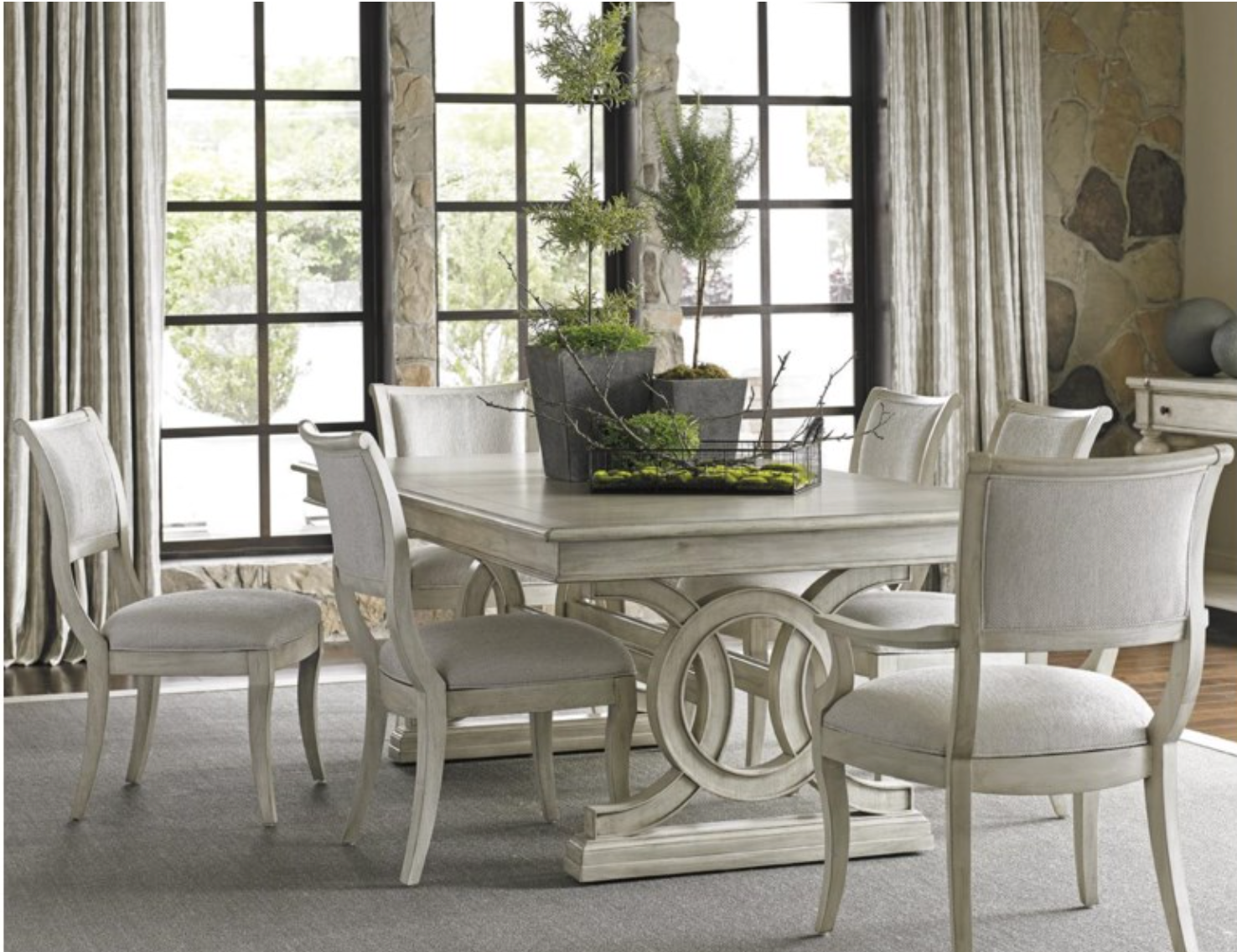 By managing the lighting properly, you'll maintain a greater degree of artistic control over your transitional style of decorating. It is of critical importance to properly use light to highlight the colors and features of your furniture. A signature element of this decorating style is a resort-like focus on display while at the same time, keeping the decorating itself smooth and muted.
Baer's Furniture
For all your transitional style furniture needs, there's Baer's Furniture! Come peruse our thousands of floor models, and let our qualified staff help you make decisions that will turn your living space into a decorator's masterpiece.