How to Identify High-Quality Leather Furniture
With hundreds of leather brands and products, Baer's Furniture benefits from our customers knowing the difference between premium leather and substandard materials. With that in mind, we don't just want you to buy a leather piece or set; we want you to know that you're purchasing best-in-class furniture.
If you aren't familiar with the factors that make our leather furniture a cut above, read on to learn more.
The Types of Leather Used to Make Furniture
When you're looking for furniture, you might see terms like "genuine leather," "full-grain leather," "top-grain leather," etc. They all sound good, but what does each term mean?
Genuine Leather
This means the product is made from real leather instead of a synthetic or non-leather natural material. The designator does not indicate quality, only the source of the material.
Full-Grain Leather
This is an extremely durable leather that has undergone minimal treatment — only hair removal and a natural dying process. Full-grain leather can feel tough when it is brand new, but it will usually soften with time, becoming more comfortable and attractive with age.
Top-Grain Leather
This high-quality grade of leather is buffed and dyed to create a softer texture. Top-grain is a tough, durable leather but softer to the touch in the early stages than full-grain leather. It has undergone more processing than full-grain.
Aniline Leather
Aniline refers to the dyes used to color this high-grade leather. In order to produce aniline leather, the tannery must use high-quality, porous leather to absorb aniline dyes into the skin.
In Europe, the definition of aniline leather is codified. Aniline leather must be a smooth leather with the pores of the hair visible. If there is a finish, it must not be thicker than .01 mm and cannot contain pigments.
Split-Grain Leather
This means that the leather skin has been divided by its layers or split. Split-grain leather has a nice texture and smell, but it tends to be thinner and more porous. This is less expensive than full-grain or top-grain, but because this leather is less durable, furniture made from this type of leather can be difficult to preserve. For example, split-grain leather is more susceptible to tears and permanent stains.
Bonded Leather
While technically a leather grade, bonded leather is constructed from separate pieces of leather that have been bonded together with an adhesive. The resulting product has less than 20% leather in it. As bonded leather furniture ages, the adhesive can lose its efficacy, so the leather can start cracking, peeling, or flaking, which is not only unattractive but impossible to reverse.
Other Leather Terms
Because different codes and regulations that dictate the way retailers and manufacturers can use descriptors like full-grain, top-grain, aniline, etc., many manufacturers will use other terms to describe their products, or they'll just simply use the term "leather."
Ekornes Stressless Furniture, for example, offers a "Royalin Leather" option, a deep-dyed leather with a lightly-pebbled surface. While Ekornes does not provide a widely-recognized classification for this leather on their site, their description of their leather selection and dying processes indicate that Royalin Leather is closely akin to aniline leather. Whether for branding purposes or because Ekornes does not follow the exacting procedure to brand their leather as aniline, Stressless Furniture's leather is of exceedingly high quality.
Beware of leather-sounding terms used to sell faux leather products as "closely related" to leather, like leatherette, suedette, polyurethane leather (which is not leather at all), etc.
What is Leather Grain?
Grain is a term you'll often hear when shopping for leather furniture. It refers to the appearance, texture, and composition of the leather surface — similar to wood grain.
Depending on the type of leather you choose, the features and unique imperfections will either be intentionally left visible or removed via buffing and dying. Natuzzi is a brand famous for creating pieces with supple, high-quality Italian leather. Note the creamy, smooth texture on this Natuzzi Reclining Sectional.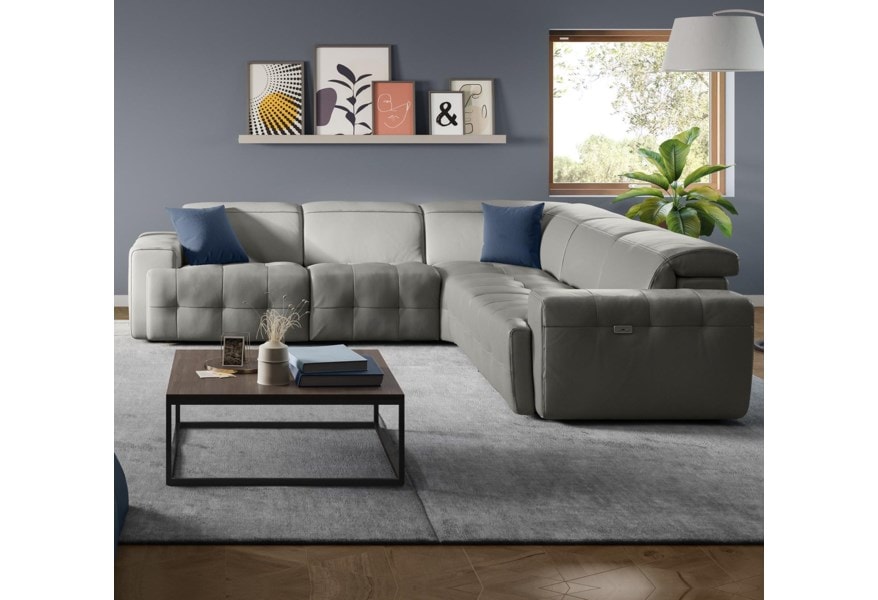 Other Important Features To Look For
Great furniture starts with high-grade leather, but many other factors go into separating shoddy workmanship from quality pieces. Here are a few things you should look for.
Hardwood Frame Construction
You're not likely to be able to see much of the frame in a leather sofa or chair, but you can sometimes get a sense of the piece's weight. Furniture made with a thicker frame made from heavy woods tends to weigh more. The sales rep should be able to tell you what type of wood was used to build the frame.
Stitching
If the stitching is visible, examine the thread for thickness, color, and consistency of stitching. Overlapping stitch patterns are stronger, and if a thread breaks, they are less likely to lead to the seam separating.
Seat Suspension and Cushioning
If the seat cushions are removable, try the seat without the cushion. It should have some give without sinking too deeply. The cushion on the seat is where you'll derive most of the comfort, so make sure you put the cushion back on and try it out.
Other Features
Make sure to examine any other features on the furniture: wooden legs, nailhead trim, upholstery buttons, etc. Legs should be made from high-quality wood. Run your finger over the nailhead trim to make sure that the individual studs are tight and evenly placed. Upholstery buttons should be tight and sunken deeply into the surface. The Bernhardt Candace Collection checks all the boxes and is among our best-selling products.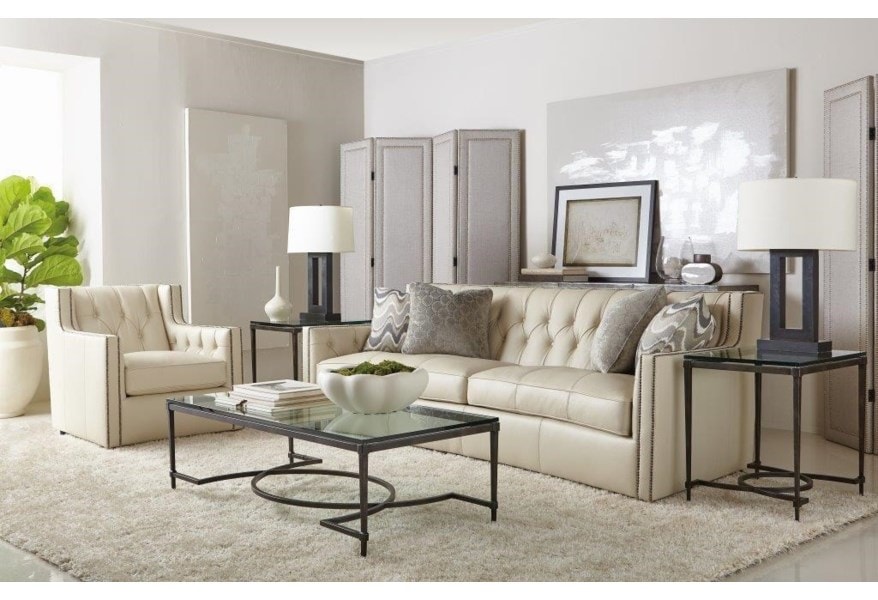 Baer's Furniture sells leather furniture manufactured by some of the most reputable brands in the business. Stop by today to shop among our hundreds of display items.